Yukon: Welcome to a road-touring paradise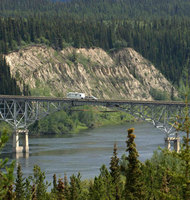 The phrase "scenic drive" takes on a whole new meaning in the Yukon. Beyond the dashboard are massive mountain ranges, lush tundra carpets, emerald lakes and acres of bright pink fireweed. Not to mention a landscape teeming with wildlife.
Hop in your car or motorhome – or join a van tour – and let the road take you to places unlike anything you've seen. With 11 diverse highways and over 3,000 miles of well-maintained roads to explore, Yukon is a road-tripper's dream. In Whitehorse you'll find motorhome, camper, trailer and vehicle rental agencies, and many Yukon communities have motorhome service stations.
Iconic Drives
With seven spectacular scenic drives lined with parks, historic sites and abundant wildlife, this is a road-touring paradise offering a multitude of options. This is a land of friendly characters, endless Midnight Sun and expanses of pristine wilderness. Each route takes approximately two to five days to complete.
Cruise all the way up the historic Alaska Highway ­– the famous northern route that winds through eight Yukon communities, Kluane National Park, major attractions and Yukon's capital city, Whitehorse.
From gold panning to glaciers, the Klondike/Kluane Loop combines authentic Klondike Gold Rush history with the best of Yukon's pristine wilderness into one magnificent loop.
The Silver Trail will lead you into the history of Yukon's other precious metal history, and you'll be rewarded with an authentic off-the-beaten-path experience.
Traversing one of the Yukon's least-populated regions, the Campbell/Canol Drive winds past inviting lakes, sparkling rivers and scenic vistas. A quiet, more remote experience with rewarding fishing and wildlife viewing.
Travel the famed Dempster Highway, Canada's only all-season road to cross the Arctic Circle. Among the world's most unique driving routes, this unpaved two lane highway is an original driving adventure.
The Golden Circle Drive takes road trippers from Whitehorse through picturesque Yukon towns and spectacular mountains and alpine passes to the rugged coast of Alaska.
On the Southern Lakes Circuit you will explore a network of deep blue lakes backed by coastal mountains and villages filled with artists and historic sites, all just a short drive from Whitehorse.
Background on Yukon
Situated in the upper Northwest corner of Canada, next to Alaska, the Yukon is Canada's most accessible northern destination, and with scenic drives into all corners, it's a driver's dream. The territory boasts a network of highways that rank among the world's premier driving adventures including the legendary Alaska, Top of the World, Klondike and Dempster highways. Yukon also has an exhilarating combination of postcard scenery, heritage sites and cultural attractions and just beyond the dashboard are inviting towns, campgrounds and countless adventures.
This is a land of friendly characters, midnight sun and breathtaking scenery. In fact, the Yukon is one of North America's major wilderness attractions; close to 80 percent remains pristine wilderness with 5,000-metre peaks, forested valleys, unspoiled waters and untamed wildlife. Roughly the size of France, the Yukon is home to more than 160,000 caribou, 70,000 moose, 22,000 mountain sheep, 7,000 grizzly bears, 10,000 black bears and 250 species of birds… and only 36,000 humans!
Steppes Travel offer a 16 day Silver Trail & Dempster Highway itinerary from £2,995 per person including accommodation, car hire and international flights.
steppestravel.co.uk/canada-yukon-self-drive/overview
Black Tomato offer a luxury 10 day 'Follow the Gold Rush in the Yukon' itinerary from £3,999 per person including accommodation, car hire and international flights.
blacktomato.com/destinations/canada/yukon-holiday/