Cream is king for Retro refrigerators in popularity poll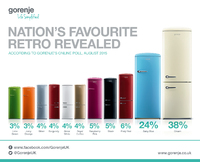 Leading kitchen appliance manufacturer Gorenje has recently surveyed its social communities to reveal the nation's favourite coloured Retro refrigerator.
The results are in and the Cream Retro has been revealed as the most popular by far, with a staggering 38% of the votes, followed by Baby Blue at 24 percent and Fiery Red at 6 per cent.
Stuart Benson, national sales manager for Gorenje UK comments: "Our Retros are one of our most popular products, and their stylish appearance has even seen them appear on a number of popular TV shows this year, including Geordie Shore.
"We wanted to ask our Retro fans which of our colourful collection was their favourite, and perhaps unsurprisingly cream is still king when it comes to the popularity polls."
The Retro fridge is available in eleven colours including Raspberry Pink, Lime Green and Baby Blue. All the models in the collection boast A++ energy ratings, SuperCool Functions and MultiFlow accelerated air circulation.
Stuart Benson, concludes: "Alongside functionality and technology, design is really important to consumers, which is why our Retros are available in such a wide variety of colours. People are increasingly looking for appliances that act as a stylish, stand-out feature within the room, and models in our Retro collection do exactly that!"
For more information about Gorenje's range of appliances, visit gorenje.co.uk.