Trio of powerful products for Gorenje's laundry range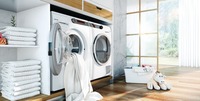 Leading kitchen appliance manufacturer Gorenje, has announced the launch of three new laundry products offering industry-leading Inverter PowerDrive technology.
The efficient and environmentally-friendly inverter motor is already available on the A+++ rated W85F44P/IUK and W95F64P/IUK washing machines and will be available on the W98F65E/IUK model from January 2016.
Stuart Benson, sales director for Gorenje UK, explained: "This latest innovation is a significant step in our laundry product development as it not only offers unrivalled reliability but combined with our TotalWeight and SensoCare technologies, it provides increased energy-efficiency as it uses only the energy required for the weight of the laundry loaded into the machine.
The PowerDrive motor operates without brushes which eliminates mechanical friction and wear and tear. This technology also allows for increased washing performance and a notably quieter experience.
The motor offers spinning rates of up to 1,600 rpm and caters for loads of up to 9kg while delivering a washing process that is up to 4dB quieter than a traditional universal motor.
Stuart concluded: "We are continually introducing market-leading technology across all of our products and this latest innovation to our laundry range is just one of many exciting developments to come!"
For more information about Gorenje's range of appliances, visit gorenje.co.uk.