Miller Homes Southern lays the foundations for hundreds of new homes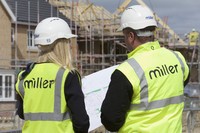 Miller Homes Southern has announced plans to build more than 300 homes in the region this year.
The properties will be spread across nine new sites and will also see the expansion of an already existing popular Miller Homes development in West Sussex.
The award-winning housebuilder currently has three developments in the South and the new sites will be situated across Oxfordshire, Hampshire, West Sussex, and Gloucestershire.
Miller Homes is building new homes in Tetbury within the Cotswolds district of Gloucestershire. New communities will also be developed in two locations in Bloxham and in Didcot, Steventon and Drayton in Oxfordshire.
In West Sussex a new site is earmarked at Southwater, near Horsham while properties are being built in Tangmere at the Bader Heights development.
The established Burleigh Woods site in Crawley Down will see 35 new homes built in 2016 as part of the second phase of this development.
In Hampshire nearly 90 new homes are planned for Austen Fields in Medstead.
For Tracey Lee, regional operations director at Miller Homes, this announcement proves the award-winning housebuilder's commitment to the region.
She said: "The past year has been a very successful one for Miller Homes and we are confident that 2016 will continue in much the same vein.
Location is key when we select our new developments and the areas we are moving into. From beautiful towns in the Cotswolds and idyllic villages in Oxfordshire, to a new premium development in West Sussex, our mix of two, three, four and five bedroom properties are sure to be popular with house hunters, whatever their budget or buying needs."
Miller Homes has been awarded 5 Stars for Customer Satisfaction in the Home Builders Federation (HBF) National New Home Customer Satisfaction Survey and Tracey believes this really shows the Miller difference.
She added: "Our customers are delighted with the effort we put into building our homes and making the purchase process as smooth as possible. This is great news for existing customers and also helps Miller Homes attract buyers to its new developments."
Miller Homes currently has a number of active developments in the South and across the UK. Visit millerhomes.co.uk for more information.