Gorenje reveals new bigger and better Retro models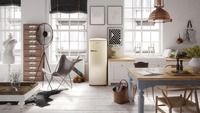 Leading kitchen appliance manufacturer Gorenje is proud to launch the next generation of its best-selling Retro cooling collection.
The company has developed three new models in total, all boasting IonGeneration technology and a wide range of design and colour options. The new Retro range also offers A+++ energy ratings and as such, the collection has been verified by the leading energy saving advice organisation, Energy Savings Trust.
Stuart Benson, sales director at Gorenje UK added: "We first launched our iconic Retro range in 1999 and it has remained a firm favourite ever since. Our latest models are packed with new and exciting features, including our innovative IonGeneration technology for ultimate food preservation."
IonAir technology, which is available on the majority new models, circulates negatively charged ions to purify the air in the fridge destroying up to 95 per cent of all bacteria, mould and odours, meanwhile the brand new ONRK models feature NoFrost technology, preventing the accumulation of ice and frost, while keeping the power consumption low.
Stuart added: "Our new Retros are bigger and better than ever. Available in up to nine different colours including Baby Blue, Cream and Burgundy they are set to make a real style statement in any kitchen."
To celebrate the launch of the new models it has developed a brand new video, highlighting the unique features and colour options available.
Stuart concluded: "We urge anybody interested in finding out more about our new generation of Retros to check out our new video and visit our website to find your nearest stockist."
For more information about Gorenje and its range of appliances, visit gorenje.co.uk.