New bar and lounge officially opens for business at Sketchley Grange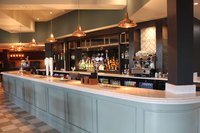 Anyone looking for a trendy new place to wine, dine and socialise will be excited to learn about the fabulous bar and lounge which is now open at Sketchley Grange Hotel & Spa in Hinckley, Leicestershire.
This well-established hotel has just opened the doors to a stylish open-plan bar and lounge area – and everybody is invited to step inside and sample the delicious new menu!
Paul Noble, General Manager at Sketchley Grange Hotel & Spa, says: "We wanted to design a space that would offer something to suit everyone – and that's exactly what we've achieved with our new bar and lounge.
"We've combined comfort with the very latest interior trends to create a contemporary yet welcoming space for people of all ages to enjoy."
The new bar and lounge boasts an elegant and inviting ambience with high-back arm chairs and sofas, high poseur tables and seating booths with televisions. The hotel is also showing live sports – ideal for watching big matches!
A superb new menu is now available at Sketchley Grange too, offering a tasty selection of modern cuisine – including lunch options and main course meals plus teas, coffees, cakes and pastries – while a comprehensive wine list will leave visitors spoilt for choice.
Paul continues: "Our bar and lounge area has been carefully designed to match the good-quality food and drink on offer at the hotel and we're delighted with how it's all come together."
The new area forms part of a £1.5 million refurbishment programme which is currently underway at Sketchley Grange Hotel & Spa, which has also seen the hotel extend its accommodation to open its 100th guest bedroom. A number of bedrooms have been refurbished as part of the current programme of work.
Paul adds: "Everyone is welcome to visit our new bar and lounge – you don't have to be staying at the hotel to pop in for a drink or come and enjoy a meal. We want to get to know the local community and we hope they will make the most of our new space."
Surrounded by trees, Sketchley Grange benefits from a leafy, rural backdrop, yet is just minutes away from Hinckley's flourishing town centre with its expanding choice of shopping and leisure opportunities. The M69 is also within easy reach for convenient links to Leicester, Coventry and other parts of the Midlands.
Designed with a cosmopolitan vibe, the garden restaurant, which overlooks the beautiful hotel gardens, features a seasonal menu including only the finest local produce and fresh ingredients to create an irresistible variety of mouth-watering dishes to suit all diners.
For a truly relaxing retreat, the Romans Health Club at Sketchley Grange is the perfect place to rest and rejuvenate with its 17ft swimming pool, heated whirlpool, pool-side loungers, Cedar Wood sauna and aromatic steam room. The hotel also offers an array of luxury spa treatments, a highly-regarded hairdressing salon and a well-equipped gym.
Couples searching for the right venue to host their dream wedding can rest assured that the dedicated team at Sketchley Grange have a wealth of knowledge and experience to ensure their special day is exactly how they imagined.
The hotel is also a popular venue for business meetings, corporate events and private parties, thanks to the selection of high-quality function rooms, suites and conference rooms available to hire.
For more information about Sketchley Grange Hotel & Spa, visit sketchleygrangehotel.co.uk.