Homeowners are dreaming of a white Christmas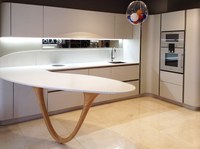 Discerning homeowners are not only dreaming of a white Christmas, but are also in a real rush to increase the likelihood of having one.
White kitchens are flying out of the door of dedicated upcycler, The Used Kitchen Company, due to a deep desire of an increasing number of Brits to make the kitchen the centre of festive celebrations in 2017, without splashing the cash too much.
Rather than planning on sitting around the TV to watch the Queen's speech or soaps, homeowners have the measuring tape and calculators in hand, fathoming out how to rehome a designer or ex-display kitchen in time, so they can pop the Prosecco, prep the porchetta and put some pyrotechnics on the pud, in a white paradise the envy of their friends and family.
"Family living is now gravitating to the kitchen, thanks to the influence of TV cookery programmes and an increased connectivity with food," says The Used Kitchen Company's founder and director, Looeeze Grossman. "We are seeing the kitchen potentially becoming the most important room in the house, because it is not only where entertaining can take place, but also where guests can get hands-on with food and help prepare dishes with their host.
"Christmas amplifies the food-social need, creating a desire amongst homeowners to install something special, before the festivities begin. However, many still want a designer bargain, which is where we come in."
For many in the run-up to Christmas, it can be any colour as long as it's white and, thankfully, The Used Kitchen Company has some crackers on offer. These range in price from £1500 to £25,000, with used kitchens at the high end often including appliances from manufacturers such as Gaggenau, Siemens and Miele.
Those wanting an ultra-white look could plump for a stunning Bulthaup kitchen with stainless steel worktops, which comes complete with island and top-of-the-range appliances. This is currently on sale at £5250.
If they prefer a matt finish, they could take a look at a number of Italian white kitchens currently on offer with islands, worktops and appliances. Or, if they fancy something 'micalizzato', there's an Arctic white Snaidero available.
If homeowners decide to combine white with another colour or finish, there are white kitchens with features in anything from walnut, elm and grey oak, to violet and Integra green.
Home design lovers planning a lazy Boxing Day brunch may plump for a kitchen with a breakfast bar – or go for one of several white kitchens with an island.
Kitchens with worktops in quartz, Corian, granite, porcelain, high-gloss white Pura and glass, all grace The Used Kitchen Company's online white kitchen portfolio, so there's a whole host of things to ponder over before the advent of a new kitchen look.
"White is always a popular colour choice at this time of year," says Looeze Grossman. "It can be the perfect festive backdrop for decorations, candles, tableware, even wine glasses, of any hue. It is also ultra-elegant and, in colour psychology terms, suggests the purity that we associate with Christmas. With this rationale and the stunning white kitchens that we have on offer here, we expect the wave of interest in white kitchens to extend well into 2018.
"It is also worth noting that white is often a colour of kitchen that first-time buyers are attracted to, so the white used kitchens we supply are usually in well-looked-after condition. In fact, nobody will know they're used unless the buyer reveals that fact."
All the white kitchen options can be viewed at theusedkitchencompany.com.