You'll always find them in the kitchen at viewings: Room named ultimate first impression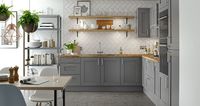 The kitchen is the most important room in the house when it comes to a first impression according to a new study.
Property Rescue surveyed the UK's homeowners for their opinions on what they looked out for and received a unanimous verdict when it came to the kitchen.
A staggering third of people view the kitchen as a make or break when it comes to buying, with many put off by the extra £7,000 they're likely to spend on fitting a new one.
The bathroom was the second most important (22%), while a fireplace was popular with the younger generation and first-time buyers.
"Danny Nieberg", director at Property Rescue said, "It seems there's been a shift in ideals when it comes to buying. Where once a home was seen as a project, buyers today are looking for something they can move straight into without much change."
House prices have already risen on average by £3,000 in 2017 and in some area have increased by six times in the past 20 years, giving people less budget to renovate.
Outside the home, the neighbourhood was the most important aspect of a new home, with 58% agreeing they're already judging a home before they even turn down the road. Local amenities (18%) and a private driveway (10%) made up the top three.
Surprisingly a spacious garden finished below the need for a car parking space, although was more popular among females aged 35-45.
"Where once having your own green space was king is being replaced by the need for a car parking space. With many professionals having children later in life now, gardens are possibly seen more as a chore than a place to play and relax.
Property Rescue have been buying properties for over a decade and have an expert team who buy properties directly from the homeowner without a middleman.
They've helped thousands of people sell their properties over the years and can exchange contracts within as little as 48 hours, no matter what condition it's in.