S&T acquires Hyosung Motorcycles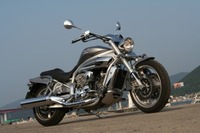 Hyosung Motors and Machinery Inc., manufacturer of fast-growing Hyosung motorcycles, has been acquired by S&T Corporation of South Korea. While the Hyosung brand will continue, the manufacturing company producing Hyosung motorcycles has been renamed S&T Motors Co. Ltd.
Although founded as recently as 1979, S&T Corporation has become one of South Korea's biggest and most dynamic groups comprising 13 group companies. S&T is a world leader in heat exchanger and several other industrial technologies.
Hyosung motorcycles are distributed in the UK by long-established E. P. Barrus Ltd., based in Bicester. Matthew Gilder, general manager of the company's Vehicle Division commented:
"S&T is very technology-driven, and has an ambition to be the best at what it does, rather than the biggest. There are likely to be synergies across the group companies that over time, will benefit our customers and dealers. Hyosung is being very well received here, and S&T's industrial and financial support will take the brand and bikes to a new level."
S&T stands for 'Science and Technology,' but also represents the concept of 'Super and Top' – an expression of the group's aims and ambitions. An English web site is at hisnt.com. The Hyosung web site is at hisntmotors.com.
Hyosung motorcycles combine outstanding value for money with advanced technologies and contemporary styling. There are 14 models in the range from 125cc to 650cc, including cruisers, sports, commuter and supermotard bikes with prices ranging from £1,949 to £4,999. They are low cost to maintain and insure, with a full two year warranty and one year's roadside assistance. There are 74dealers in the UK and the bikes can also be purchased online at hyosung.co.uk.