Hyosung Birthday Bike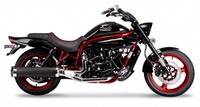 Superman and Grease were at the cinema, but Annie Hall got the Oscar for Best Picture. The first test tube baby was born in Britain; Space Invaders was developed in Japan; and Wonder Woman was on the telly. The Eagles' Hotel California was a huge hit and Argentina won the footy world cup. Two popes died. And seven inches were no longer enough.
In South Korea, the Hyosung Motor Company was incorporated. It didn't make too many headlines, but today and almost 30 years on, the Hyosung GV650 Anniversary model commemorates the start of the company back in 1978.
It's one of Hyosung's best-selling models, combining laid back, contemporary cruiser styling with ample power and an attractive price tag. But the GV650 Anniversary model is finished in dramatic and stunning black and red. The main elements of the tubular frame, the wheels and other details are highlighted in red. The rest of the bike is a deep and lustrous black – including the engine and major mechanical components.
Of course, it is powered by Hyosung's latest electronic fuel injected 650cc V-twin engine, now developing 80bhp and 67Nm of torque. All of that is transmitted to the rear wheel through a five speed gearbox and a quiet, durable belt drive.
Matthew Gilder of importers and distributors, E. P. Barrus said: "Most people probably think that Hyosung only started making bikes a few years ago. This model highlights the fact that Hyosung has 30 years of motorcycle design and manufacturing experience in Korea and it's an increasingly serious make. New bikes next year demonstrate the company's ambitions."
This limited edition GV650 will be on the Hyosung stand at this week's NEC Bike Show and will be in the 88 Hyosung dealerships early next year, when the price will also be announced.
Hyosung motorcycles are manufactured in Changwon City, South Korea, and earlier this year, Hyosung Motors and Machinery Inc. was acquired by S&T Group – one of South Korea's biggest corporations with a global turnover of more than £4 billion. The manufacturing company is now called S&T Motors
S&T Motors employs over 500 people and exports to over 60 countries. Producing scooters, motorcycles and ATVs from 50cc to 650cc, it has a target to become one of the world's top five producers.
There are currently 16 models in the fast-growing UK Hyosung range from 125cc to 650cc, including cruisers, sports and commuter bikes, supermotard and off-road, scooters and a road-legal quad. Prices range from £1,949 to £4,999. Every model has a full two year warranty and one year's roadside assistance.
The Hyosung stand at this year's Bike Show will be in Hall 1 from November 22 to December 2