Start taking it seriously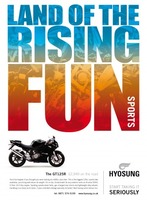 Hyosung recorded its best ever sales month in September with 152 bikes being registered. That's over 135 per cent up on the same month last year and takes the South Korean make to a total of 781 bikes sold to the end of September – a 212 per cent improvement on the same period last year and ahead of well-known makes like Benelli, Buell, Derbi, Husqvarna, Moto Guzzi and MV Agusta.
UK dealers report steadily increasing interest in the Hyosung range of 16 models from 125cc to 650cc, including cruisers, sports and commuter bikes, supermotard and off-road, scooters and a road-legal quad. Prices range from £1,949 to £4,999.
And this sales progress has led distributor E. P. Barrus, to revamp its approach to marketing Hyosung.
"With 88 dealers and more bikes on the road, riders are gradually becoming more aware of Hyosung and have started to take the bikes seriously," explained Barrus divisional general manager, Matthew Gilder. "It would be easy to push the value for money aspect of the brand, but we also want to emphasize that the bikes are fun, technically competitive and have a solid pedigree. They aren't just about price."
This new Hyosung marketing campaign simply challenges riders to 'Start Taking it Seriously' with a series of advertisements highlighting that the bikes are fun to ride ('Land of the Rising Fun'), drawing attention to their provenance, and making direct comparisons with lower powered rivals.
The campaign breaks in the run-up to this year's Bike Show at the NEC where the Hyosung stand will have several new models in Hall 1 from November 23 to December 2.