New bikes plus power and torque injection for Hyosung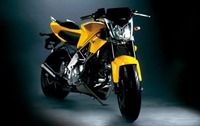 New 650 and 450cc bikes, a new 125cc scooter and technical upgrades including fuel injection mean riders are set to take Hyosung just a little more seriously when the South Korean manufacturer debuts its new bikes at this year's NEC International Motorcycle Show.
New GT650X
The star of the stand is likely to be the new Hyosung GT650X – a different and individual take on the street-fighter style with a completely new tubular frame and sharp styling. The engine is a development of Hyosung's familiar 647cc 90 degree V-twin, with double overhead valves and four valves per cylinder. But with electronic fuel injection, power output is now 82bhpwith improved fuel efficiency, more low speed torque (67Nm at 7,250rpm) and stronger performance. Vibration is minimised by counterbalancing and a new oil cooler aids performance and durability. The exhaust system is kept low and central for mass centralization.
The new frame is very rigid for improved handling and low vibration, using tubular chromium molybdenum (CrMo) steel and aluminium. The swing arm is rigid, but low weight aluminium and unsprung weight is reduced with lightweight 5-spoke wheels. Tyres are 120/70-17 ZR and 180/60-17 ZR. Front brake discs are 300mm with radial mounted 4-piston callipers.
Combined analogue and digital instruments, carefully located electrical components and an LED tail lamp all help to reduce weight and improve durability. Special attention has been paid to ease of riding and comfort.
New RX450SM
For the first time, Hyosung is bringing a single cylinder, 450cc bike to the range. The new RX450SM is unashamedly a supermotard-style bike, designed for serious fun, but it would also make a great city commuter bike. It was designed using Hyosung's 'form follows function' philosophy; it has a simple, elegant line, yet looks very purposeful.
The engine is a liquid-cooled DOHC four valve single cylinder, with an aluminium silicon (Si) sleeve for more power and durability. The aluminium alloy comprises over 30 per cent Si and is the only alloy of its type currently in production. A PF die-cast piston is more durable and exhibits less thermal expansion than normal cast and applied steel (FE) pistons. Vibration is reduced by counter-balancing. Power output is 50bhp at 8,500rpm.
The frame uses CrMo steel for lightness with rigidity. The down tube of the main frame acts as the oil reservoir and the aluminium sub-frame is a separate section for easier maintenance. The aluminium swing arm is light, but rigid enough for the most demanding conditions. The wheelbase is 1,486mm with a ground clearance of 278mm.
The 45mm upside down front fork is fully adjustable and has 250mm of wheel travel. The rear suspension features a 50mm fully adjustable damper and has 280mm of travel. Brakes are by Brembo with the wavy front disc 260mm diameter, and the rear 250mm.
The digital speedometer includes a stopwatch function. The dry weight of the Hyosung RX450SM is 120kg.
New SX125 scooter
Conceived as short-to-mid range urban transport, the new Hyosung SX125 scooter is compact and very easy to ride, but with 16 inch wheels and a quality finish, it can easily handle today's rough roads and looks every bit a serious piece of machinery.
It is powered by the same 125cc engine found in the Hyosung MS3 introduced earlier this year. The single cylinder 124cc engine uses double overhead camshafts and four valves with water cooling. An electric starter and automatic CVT transmission make for easy riding, and the SX125 has been designed for comfort with little or no fatigue.
The high-tensile steel frame is strong and rigid, providing stability and low vibration. There are disc brakes front and rear, with twin coil spring and damper units at the back. There's also ample storage space.
Hyosung 650s gain fuel injection
All Hyosung 650 V-twin engines gain electronic fuel injection for more power and torque.
The very popular GV650 cruiser gets nearly 15 percent more power and now gives a class-leading 80bhp with 67Nm of torque at 7,250rpm.
The GT650R and GT650 now have 82bhp (an almost four per cent increase) and torque of 67Nm.
At the same time, fuel injection dispenses with the choke of earlier models to give easier and smoother starting and warm-up. These new fuel injected Hyosungs are already in dealerships. The GT650X, RX450SM and SX125 will arrive in 2008 with prices yet to be set.
Matthew Gilder, general manager of the vehicle division of distributors, E. P. Barrus said: "Our stand at last year's bike show had quite an impact, and a year on, motorcyclists and dealers are starting to take the brand much more seriously. These latest improvements demonstrate Hyosung's intent to be a very competitive brand, combining performance with real value for money. We're looking forward to a great show."
Hyosung motorcycles combine outstanding value with advanced technologies and contemporary styling. Every model has a full two year warranty and one year's roadside assistance.
There are currently 16 models in the fast-growing Hyosung range from 125cc to 650cc, including cruisers, sports and commuter bikes, supermotard and off-road, scooters and a road-legal quad. Prices range from £1,949 to £4,999.
Distributed by long-established E. P. Barrus Limited, the Hyosung range is available at 88 dealers around the country and on-line at hyosung.co.uk.
The Hyosung stand at this year's Bike Show will be in Hall 1 from November 23 to December 2.