Piper-Heidsieck Champagne Creates The Perfect Chill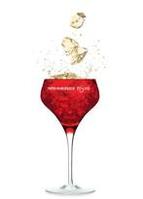 Trophy winning Piper-Heidsieck Champagne - recognised by its bold red label - has always dared to be different. This Summer, enjoy it with a flourish of extravaganza - as Piper-Heidsieck Piscine. Look out for Piper-Heidsieck served in its own red, curvaceous and elegant, stemmed glasses, with ice cubes inside, in stylish, contemporary bars.
This indulgent Riviera style of enjoying champagne originally started in the South of France and is set to become a flamboyant fashion in the city. Piper-Heidsieck Piscine [French for swimming pool] reinvents the way we drink Champagne, adding a touch of intense, flamboyant fantasy. This extravaganza is at the same time luxurious, irreverent and modern.
Making an early début at a couple of select parties this season, Piper-Heidsieck Piscine supported the Whitechapel foundation's philanthropic ArtPlus fundraiser. It was also spied at the launch of the new Sergio Rossi Sloane Street boutique.
With minimum ageing of 24 months, compared to the legal Champagne minimum of 15 months, the blend comprises wines from three years and uses older, reserve wines of four years old.
Find out more at Piper-heidsieck.com.