Rooftop pools feature in new townhouses in Morocco's Mediterranean Resort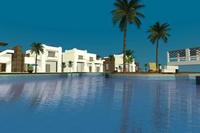 Rooftop pools and glass walls are among innovative features in townhouses to be built on Morocco's Mediterranean coast by Property Logic, the Spanish developer of Le Jardin de Fleur, a new scheme close to the marina, beach and shopping areas within the Mediterrania-Saidia golf and beach resort.
The resort is one of six forming part of the Plan d'Azur backed by the country's King Mohammed VI and the Moroccan Government in a bid to increase the annual number of tourists visiting the country from two million to ten million by 2010.
The design of the 50 new homes, set in landscaped sub-tropical gardens, 'breaks the mould' of property designs at Mediterrania-Saidia, according to Gerry Jones, joint managing director of Newbury-based Saffron Villas Ltd which is marketing the luxury air-conditioned properties in the UK and Ireland.
"The architect has combined typically Moroccan features with a modern slant which includes a glass wall between the spacious master bedroom and its ensuite bathroom," she reports. "In my view they are the ultimate in affordable luxury."
The three-bedroom, three-bathroom homes, built around a communal pool with its own beach, are available in a choice of three layouts with floor areas ranging from 169 sq m to 189 sq m.
Each of the fully furnished properties comes with a rooftop pool with a panoramic view embracing the sea, the marina, the resort's golf courses and the Rif mountains which separate the Mediterranean from the Sahara.
Outside the overflow from the rooftop pool creates what Gerry describes as "a spectacular water cascade."
Also planned are 25 large, individually designed, detached villas standing in their own grounds.
Inspired by traditional Moroccan architecture, the five- and six-bedroom air-conditioned homes will have floor areas ranging from 230 sq m to 271 sq m with gardens of between 100 sq m and 150 sq m.
"Le Jardin de Fleur will appeal to investors seeking a rental income and capital growth, as well as purchasers wanting a home in the sun," predicts Gerry.
"Capital appreciation is rocketing with the prices of new properties at Mediterrania Saidia rising by more than 30 per cent annually. Investors can benefit from exemption from rental income tax for five years, no capital gains tax if the property is sold after 10 years, and no inheritance tax."
Saffron Villas can put buyers in touch with local banks which will arrange mortgages of up to 70 per cent.
The first of the new homes will be ready for occupation towards the end of 2008. Prices of the townhouses start at £190,000. Villa prices, which depend on size and location, and include a berth in the resort's marina, start at £429,265.
For more information, visit saffronvillas.com.