Heading for the beach - by Royal appointment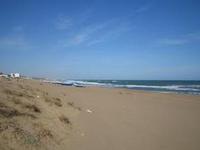 The north African kingdom of Morocco is famed for its culture, colour and cuisine, but it's time investors started looking at its beaches, according to Spanish-based agents, Prime Properties International.
Morocco has 3,000 miles of virtually untouched coastline, and some of the best areas are now being developed under Plan Azur, King Mohammed's ambitious scheme to attract foreign investment and transform his country.
Prime Properties has been operating successfully in the Almeria region of south east Spain since 1999, based in Mojacar. Now it has launched an international division, with Morocco at the forefront of it's expansion plans, It will open its first office there early next year.
Morocco offers the same year-round climate as southern Spain and is only a five-mile hop away. Low cost airlines such as Easyjet, Ryanair and Monarch are set to launch new routes making the country even more accessible from Spain, the UK and France.
Mediterranean Saidia, on the north east coast, is the first resort to benefit from the Royal plan. Here a new sunshine paradise is under construction overlooking four kilometres of white sandy beach, next to a nature reserve.
Beautiful villas and apartments are being built around three super golf courses. Five star hotels, designer shops, beach clubs and a 840-berth marina will complete the picture. Prices start from just fifty thousand Euros.
Prime Properties International can also offer similar developments near Casablanca and Tangiers, plus property in Brazil, South Africa, Cyprus, Cape Verde, the Canaries and the Gulf.