Moroccan Beach Resort offers rare opportunity to buy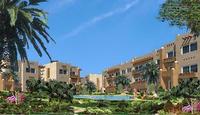 A rare opportunity for investors and second home buyers to acquire front-line homes on one of Morocco's finest Atlantic beaches, south of Casablanca, is announced this week by Saffron Villas Ltd, the Newbury-based Moroccan property specialist.
Unlike many new schemes in Morocco, Saffron Villas is in a position to offer purchasers contracts which can be signed now.
"This is a development for the investor who wants to put money into an exceptionally high calibre scheme which is guaranteed to start taking shape soon," says Gerry Jones, joint managing director of Saffron Villas. She reports that construction work will start in March, or when 70 per cent of the 400 properties have been sold, if that occurs earlier. The first apartments will be available for occupation two years later.
The pedigree of the team undertaking the scheme, is unrivalled in Morocco, according to Gerry. The developer is President Development whose key personnel include leading Moroccan architect Said Bensat, who has undertaken major commissions in North Africa and Saudi Arabia, and Said Tadlaoui, a former director of the Wafabank in Casablanca, Paris and Amsterdam who has extensive high level contacts within the financial professional, construction and political sectors in Morocco.
The construction contract for the Sunset Beach Club has been placed with leading Moroccan contractor Bladi which has undertaken some of Morocco's most prestigious building projects, including the Sheraton Hotel in Marrakech.
Control and management of the development is the responsibility of Michiel Verkerk, a financial advisor and mortgage specialist.
Sunset Beach Club is the latest scheme to be announced as part of the multi-billion dollar regeneration of the Casablanca region at the behest of the country's King Mohammed VI and the Moroccan Government in a bid to increase the annual number of tourists visiting the country from two million to ten million by 2010.
The Sunset Beach Club is located on the 15 km beach linking Casablanca with El Jadida and is only 30 minutes from Casablanca Airport. Its location boasts one of the best 18-hole championship golf courses in Morocco. Other resorts nearby are Les Palmiers de Casablanca, where all the properties in the first phase already have been sold off-plan, and a luxury Kersner development incorporating a hotel and casino only 15 minutes away by road.
Casablanca Airport is a 30 minute drive from the resort.
The Sunset Beach Club's beachfront properties will be four-storey buildings comprising two-bedroom, two-bathroom apartments with floor areas ranging in size from 111 sq m to 147 sq m, and spacious three-bedroom penthouses which come with a rooftop solarium served by a their own shower room and toilet.
All the properties, which include furnished villas yet to be announced, will be finished to European standards with fully-fitted kitchens and bathrooms.
Within the beach club will be ten swimming pools as well as beach bars, restaurants and shops.
Saffron Villas, which is the sole agent for the Sunset Beach Club, say that investors who buy in the resort will be able to let their properties without any restrictions and they will benefit from exemption from rental income tax for five years.
Like the purchasers of all new properties in Morocco, they will pay no capital gains tax if the property is sold after 10 years, and no inheritance tax.
Saffron Villas can put buyers in touch with local banks which will arrange mortgages of up to 90 per cent or, depending on income and age, 100 per cent.
Prices of the beachfront apartments at the Sunset Beach Club start at £99,000. Those within the resort's Garden Sector are priced from £62,000. For more details, visit saffronvillas.com.