Come fly with me...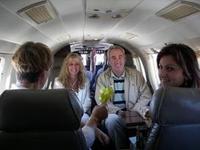 Many estate agents offer inspection trips, with flights included, but few take their clients by private jet. That is the experience enjoyed by customers of Prime Properties International.
The Mojacar-based agents are opening an office in Morocco in the New Year. Meanwhile they have taken to the skies. Managing director, Keith Sellers, said: "Although it is comparatively easy to take a ferry from Almeria to the north coast of Morocco, we have found it much less time consuming, and of course much more fun for our clients, to fly them over from southern Spain.
"We share costs with our developers, and we are currently doing three flights a week by private jet which have proved very successful."
Prime Properties flies from Malaga to Oujda airport. From there it is a 40-minute coach ride to Saidia on the north east coast, to inspect the resort, followed by a traditional Moroccan lunch in the old town, then back to Spain.
Mediterranean Saidia is the first resort to benefit from Plan Azur, King Mohammed's ambitious scheme to attract foreign investment and transform his country. A new sunshine paradise is under construction overlooking four kilometres of white sandy beach, and next to a nature reserve. The resort will have designer shops, beach clubs and a 840-berth marina, with prices starting from just fifty thousand Euros.
Prime Properties International also offers villas and apartments in Cabo Negro, Tetuan, Marina Smir and Tangier.
10 Reasons to buy in Morocco:
Low property taxes
Property prices 50% less than other European resorts
No income tax on the first 5 years rental
No inheritance tax when the property is left to the children
Safe investment – Notary supervised property registration similar to France & Spain
Easy repatriation of investment should you re-sell in the future
20% capital gains up to 5 years, 10% capital gains from 5 to 10 years and no capital gains to pay after 10 years
Property market booming – average rises of 15% per year achievable
Rental occupancy reaching 85% most years during the peak season
Mortgages readily available
For further information, visit prime-propertiesinternational.com.