Mission Possible: Making Money in Morocco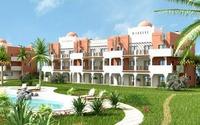 Paul Staines, Director of Saffron Villas speaks with Adam Samuel of Nubricks.com to give us his inside information on purchasing property in Morocco, the full interview is available to download only at nubricks.com.
Morocco. A country of vibrant culture, classically beautiful coastlines and the contrast of traditional villages and bustling cities. Situated only 9 miles away from Spain by sea, you can enter into a new way of life and certainly a new world of opportunity for property investors.
Paul Staines has no less than three off plan apartments in the town of Saidia, the Playa Vista development in Tangiers and at Sunset Beach just south of Casablanca. You may well expect a director to buy one of his company's properties, but to buy three… he clearly knows something that we don't.
In 2001 Morocco's new King Mohammed VI announced the 'Azure Plan and Vision 2010' which intends to increase the tourist numbers into the country from 2 million to 10 million within 10 years through developing major tourism property development projects. Since 2001 the market has grown by around 50-75% with the first new properties being launched 2 years ago and with new developers moving into the market including local companies and developers from Dubai and Europe.
The average property price currently in Morocco is £100,000 to £125,000; however the market caters for the £50,000 budget as well as luxury multi-million pound properties. There are a variety of types of property available in the Azure Plan including apartments and villas. If you want an original property outside of the Azure Plan then riad's are available in the historical medinas, however they can come complete with problematic title deeds!
Paul mentions on the podcast, "There is a risk in buying outside the Azure Plan resorts, use your due diligence and research the developers well. There are a number of large and established developers operating outside of the Plan; it is the smaller and lesser known developers and agents that you really have to do your research on."
Buying a new build property in Morocco is however, straight forward and similar to European countries; a reservation contract must be signed and the title deeds, signed at the local notary, are handed over on completion and full payment. One issue to be aware of is that the country is a relatively new market and as such does not have bank guarantees, so choosing the right developer with a good track record is key. Mortgages are easy to get hold of subject to status, loans of up to 70% are very common and interest rates range from 5.5% to 6.5%.
Buying in Morocco doesn't have to be taxing either; taxes for completion are about 5% for stamp duty, land registration and notary fees. Capital gains tax is 20% on profits over €£60,000 and after 5 years that goes down to 10% and after 10 years there is no capital gains tax as it is rated at 0%. If you are planning on renting out your property once it is completed then there is no rental tax for 5 years and there is no inheritance tax if you leave your property to a family member.
Morocco, like successful tourist locations before her, is becoming more and more accessible, which is good for visitors and investors alike. Ferries are available from Gibraltar and Algeciras in southern Spain but for the majority, taking to the skies for the 3 hour direct flight from the UK is most popular. The Open Skies agreement starting in Morocco as of the beginning of this year will also open the country up to all the low cost airlines. Recent news which also bodes well in the case for Moroccan property investment is confirmation that Swiss engineering firm Lombardi has won the contract to design the railway tunnel between Europe and Africa running under the Strait of Gibraltar. Similarly to the Channel Tunnel linking England and France, the tunnel's completion will allow a continuous rail link between the north of Scotland and Africa.
If you are still not convinced about purchasing in Morocco then a visit to sample the local gastronomy will help change your mind, it has been attracting high profile celebrity guests such as Kate Moss and P Diddy as far back as 2003. Moroccan cuisine is reputed to be one the top cuisines from across the world including the famous Couscous, Mechoui, Pastilla, steaming Tagines, pastries and the national drink, mint tea. The climate varies from region to region, the coast has a very mild climate in the summer and humid in the winter, average temperature from 16°C to 26°C; inland is much warmer during the summer up to 33°C.
Despite a common belief that it is a requirement to speak either Arabic, the native tongue, or French which is spoken in most regions; English is widely spoken especially in the major cities and tourist areas.
So what about the future of Morocco? Saffron Villas offers the following hot tips… Marrakech is gaining in popularity and will see an increase in property development to satisfy demand. This city is a fabulous mix of the traditional and modern; it retains its charm, has skiing 1 hour and 30 minutes away and currently has 3 golf courses with 7 more recently receiving planning permission.
Taghazout resort will be available for purchase options later in 2007, which is set to be extremely popular. It is located in the Agadir region where there are stretches of clean, clear coast meeting the Atlantic Ocean, perfect for water sports enthusiasts.
The growth rate and strength of the rental market in Morocco makes it financially attractive. The tourism market has grown from 2 million visitors to 5 million today and it is expected to reach 10 million by the end of the decade and of course these visitors will need places to stay. Overall Morocco should be on your wish list of locations to visit if not one for potential property investment.
The Irish, known for their keen eye for an investment, have embraced the Moroccan property market.