Marrakech - The rose city break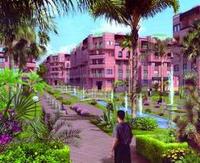 Thanks to airline deregulation, Marrakech is now well-placed to compete alongside Prague, Barcelona and Rome in the lucrative, high income earning sector of City Breaks.
Once 'just another' stage in package tours of Morocco's historic cities, alongside Casablanca, Fez and Agadir, Marrakech has now grown up into a stand-alone destination and with hotels at capacity, the apartments at El Oasis de Marrakech expect to make a steady rental income.
According to the Official Airline Guide (OAG) there were around 39 flights a week between London airports and Marrakech before the EU Open Skies agreement was implemented in 2006. But since the first low cost carrier, EasyJet, touched down in July 2006 there are now over 100 direct flights every week between the two cities with the assistance of RyanAir, Thomson Fly, GB Airways and Atlas Blue (the Royal Air Maroc no-frills subsidiary). With a three and a half hour flying time between London and Marrakech and prices starting from just 99p plus tax each way, a City Break to the Rose City is well within reach.
King Mohammed's focussed and ambitious plan to attract 10 million tourists by 2010 (from 5.8 million in 2005) has been well-publicised and Marrakech is stepping up a gear to make its modest contribution to his targets. Once 'just another' stage in package tours of Morocco's historic cities, alongside Casablanca, Fez and Agadir, Marrakech has now grown up into a stand-alone destination. The launch of new resorts and entertainment facilities is really beginning to bear fruit and a 2006 report by the Oxford Business Group confirms that "arrivals were up an impressive 22% to 1.4 million in 2005, according to official figures, while total arrivals to Morocco grew just 5%. The total number of nights spent surged even faster, increasing by 27%."
The Regional Tourism Centre (CRT) however appears to be distinctly underwhelmed with success to date and wants to see those 1.4 million arrivals eclipsed by a figure of 2.8 million in 2008. The Government has raised its tourism tax from an average of 5 Dirhams (30p) to 8 Dirhams (50p) per night so the resources are certainly in place for the CRT to target its potential market. Marrakech is certainly making sure that it is well equipped for this ambitious goal with a 30% increase in the number of beds expected for 2008 as well as an airport extension programme to increase total capacity to 8 million passengers per year.
Adam Cornwell, Director of GEM Estates, sees projects such as El Oasis de Marrakech playing a pivotal role in this quest for the City Break market. Adam comments, "El Oasis de Marrakech is ideally placed next to the Beverly Hills of Marrakech, the Palmeraie, just 10 minutes' from the vibrant Djemâa el Fna Square and 10 minutes' from the international airport. The spacious apartments share swimming pools, Spas, tennis courts, a health centre, restaurants, supermarkets, bank, medical facilities and a business centre and provide the perfect base for exploring this stunning city. The developer is so confident of the resort's appeal that they will pay your mortgage and service charges for the first two years after completion and also give you a 3% net rental guarantee for the same period. With only 25% capital outlay, nothing else to pay until two years after completion, scheduled for 2008, and capital appreciation sitting at 20 to 25% per annum, investors here can't go far wrong."
Prices start from just £80,000 GBP for a one bedroom apartment with only 25% upfront and balance upon completion in 2008. Mortgages, arranged via the developer, are in place to cover the remaining 75%.
For further information, visit gem-estates.com.