10% rental guarantee for ten years - El Oasis de Marrakech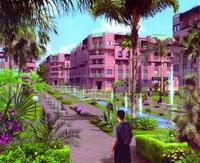 Benjamin Franklin once said that there was nothing guaranteed in life but death and taxes. Having lived in the 18th century he couldn't have known that a ten year 10% rental guarantee at El Oasis de Marrakech could also be added to his list. In terms of location, value for money, payment terms and facilities, El Oasis de Marrakech is simply unbeatable.
Marrakech has been accused of getting a little 'pricey'. The media has cross-examined the so-called Rose City giving it front page presence in the travel and property pages and the tourists have come flocking. A 2006 report by the Oxford Business Group confirms that "arrivals were up an impressive 22% to 1.4 million in 2005, according to official figures, while total arrivals to Morocco grew just 5%". And with popularity has come high property prices, except for El Oasis de Marrakech which sits reassuringly at the affordable end of the spectrum.
El Oasis de Marrakech comprises 1,014 luxurious one and two bedroom apartments and three bedroom duplex penthouses in the upmarket Palmeraie area, the Beverly Hills of Marrakech, just north east of the Medina. Surrounded by immaculate sub-tropical gardens, facilities will include a Spa, swimming pools, restaurants, supermarkets, tennis courts, gymnasium as well as a bank and business centre. All properties will have their own allocated parking space, video intercom entry, high speed internet access, telephone line, air conditioning, electric blinds, fully equipped kitchens with all appliances, fireplace, marble flooring and a generous build size. El Oasis de Marrakech is set within putting distance of the 27-hole Championship Palmeraie Golf Complex, minutes from the magical Djemâa el Fna and 10 minutes' from the international airport served by a myriad of low cost carriers.
But all of that aside – the real allure lies in the fact that El Oasis de Marrakech offers the maximum return at a minimum risk. The developer has a bank-guaranteed rental guarantee of 10% per annum gross* and clients can choose to take this guarantee for a minimum of two years up to a maximum of ten years. Owners have unlimited use of their property subject to availability at a nominal charge of 175 euros per week, however an alternative unit may be offered if yours is booked up. Prices at El Oasis de Marrakech start from just 97,650 euros for a one bedroom apartment with only 25% upfront and balance upon completion in 2008. Mortgages, arranged via the developer, are in place to cover the remaining 75% with interest rates currently at 5.99%. With capital growth sitting at 20 to 25% per annum, as an investment opportunity, they don't get much better.
The stage is set for Morocco to become a stable, sophisticated holiday destination with property prices to suit - invest in the best product on the market in Marrakech now, before it's too late.
*This 10% is a gross payment and deductions would be made for rental guarantee management (400 euros per annum year one, 750 euros per annum each year thereafter), an approximate monthly service charge of 75 euros for a one bedroom, 85 euros a two bedroom and 120 euros a three bedroom, buildings and contents insurance and of course if a mortgage applies – the monthly repayments.
For more information, visit gem-estates.com.