Internationally attractive Morocco investments set to grow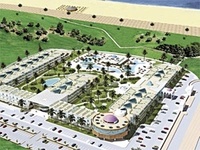 Adding a little touch of mysticism to their enviable portfolio of global properties, overseas property development specialists David Stanley Redfern Ltd now offer investors Moroccan property from as little as £56k, with attractive 2 bedroom apartments and more adventurous 3 bedroom villas featuring throughout their selection of majestic developments.
So if a resort that's expected to increase in value by as much as 30%, just 20 minutes from Tangier International Airport on the breathtaking Atlantic Coast sounds too good to miss, read on. If a property that's expected to see similar capital growth over the next few years, just 100 metres from the translucent sea on the Mediterranean coastline sounds like it could be right for you, again read on.
Above all else, if a high quality, affordable and highly rewarding investment opportunity is what you're ultimately looking for, then please do read on because all of David Stanley Redferns fully finished Moroccan properties are situated in sought after areas that are all set for excellent economic development. Increasing interest from foreign investors is understandable, not just for alluring, government supported property market but for its strong tourism industry and the ever escalating accommodation requirements it provides. Commonplace capital growth estimates for Morocco lie anywhere between 15% and 30%, making it one of today's world leading emerging markets.
Considering the many attributes that feature with these properties too, like bank guarantees, 18-hole golf courses and rental/management services along with the familiar inclusion of bars, restaurants and supermarkets, gym and fitness centres and pools, it's no wonder that Morocco is causing the commotion it is. David Stanley Redfern themselves offer an astonishing array of considerate services too, so why not get in touch for a non-obligatory chat about all the benefits of what could be the investment of a lifetime.
Find out more at www.davidstanleyredfern.com/investment-property/morocco/