Marina expansion for Morocco's Mediterrania Saidia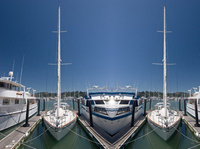 The masterminds behind the purpose-built Moroccan resort, Mediterrania Saidia, are less than surprised to discover that the marina needs extending even before they've finished building it. Over-subscribed from the outset in 2004, the existing 840 berths will now be expanded to over 1,000, taking the bill to more than 21 million euros.
Just across the water, southern Spain's most popular marina, Puerto Banús, is bursting at the seams. The existing 915-berth facility has a waiting list of 500 or more and the Marbella authorities also have plans to extend to cater to demand. The difference between here and Mediterrania Saidia however is price. From as little as 30,000 euros for a nine metre (30ft) berth, you could easily triple that price for the equivalent in Puerto Banús. Also, as every owner will testify, yachts guzzle diesel, and that's another commodity that's a lot cheaper in Morocco.
Each of the additional berths at Mediterrania Saidia will be more than 12 metres long (40ft) and also create space for more commercial areas, a sports club and extra parking spaces. The marina, which is the hub of the seven million m² resort occupying six kilometers of sandy beachfront, is zoned into distinct sporting and leisure areas to include restaurants with sunny pavement terraces, bars, a traditional souk, designer boutiques, high street fashion stores, a medical centre and discotheque.
GEM Estates offers a range of property within Mediterrania Saidia from beachfront apart-hotel suites to grandiose frontline golf villas. Prices start from just 75,500 pounds for a unit within Sahara Beach Resort & Spa.
For further information, visit gem-estates.com.