The views, a Moroccan alternative to saturated Spain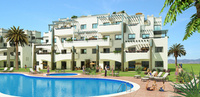 Aside from the six Plan Azur coastal resorts, the Moroccan Government has various other Action Plans on the go throughout the country, Tamuda Bay being one of them. This stretch of Tetouanaise coastline between the city of Fnideq just outside the Spanish enclave of Ceuta down to the fishing town and beach resort of M'diq is earmarked for 3.3bn Dirhams-worth of investment (over 200 million GBP) to include 5,000 hotel beds, two new 18-hole golf courses and upgrades to the existing three marinas. Pockets of residential property are springing up along Tamuda Bay and offering some tough competition to the saturated Spanish coastline just a few kilometers across the Mediterranean.
Trevor Byrne, GEM Estates Moroccan Expert comments, "The Moroccan Government made the tactical move of giving this coastline an identity by dubbing it Tamuda Bay back in October 2006 and the clear intention is to provide an accessible yet affordable alternative to the Spanish Costas. Golfers and yacht owners are a prime target and planners hope to capture a share of the market from the longer established golf courses and marinas found in southern Spain and indeed along the French Riviera. Aside from the more reliable climate, price is a driving factor with Tamuda Bay undercutting its rivals on residential property, a round of golf, berths, yacht maintenance, cost of living and so on. The formula for success is spot-on."
The Views is one such residential resort less than 10km from the chic 450-berth Marina Smir which justifiably bears a resemblance to its Spanish counterparts. Completed in 1992 by the Marina Group of Companies (a British enterprise established in 1982 which also owns Marina Marbella) the facility can accommodate yachts up to 60m in length and styles itself as a "port to experience, only 10 miles from the Straits". Flanked by bars, boutiques and sandy beaches this is just one of The Views strong selling points whilst culture lovers can immerse themselves in the old Medina of Tetouan, declared a heritage city by UNESCO, or admire the unique blue rinsed ancient properties of Chauen, both reached via a short drive.
The Views itself forms part of Alcudia Smir Beach Resort, an exotic and fashionable location taking inspiration from Morocco's distinct character. An authentic Medina sits at the heart of the project with boutiques, cafés and restaurants and over 30% of Alcudia Smir Beach Resort is given over to Andalusian-style landscaping. Low-level and low-density, the gated development of The Views is enviably positioned within walking distance of a sweeping sandy beach and the on-site facilities. Residents can enjoy a private lagoon-style swimming pool as well as pretty vistas towards the Rif Mountains in one direction and Gibraltar and mainland Spain to the other.
The 120 one, two and three bedroom apartments have European standard fitted kitchens, walk-in wardrobes, private terraces with far-reaching views, secure parking and a ten year build guarantee. Fusing contemporary and modern the interiors have high ceilings and a true sense of space whilst the adjoining five star hotel opens up yet more options for leisure and pleasure. Open to proprietors of The Views, this hotel has a fitness centre, business centre, indoor and outdoor pools, Spa, tennis courts and a conference centre.
Tangier Airport, less than an hours' drive from The Views, is served by low-cost Royal Air Maroc subsidiary, Atlas Blue, flying direct to London plus several other European cities such as Paris and Barcelona, plus the 45-minute ferry crossing from the southern tip of mainland Spain is both efficient and regular.
Prices at The Views start from 122,027 euros and a two year rental guarantee pitched at 5% is available as an option.
For more information, visit gem-estates.com.