Radisson Hotels puts name to Le Jardin de Fleur, Morocco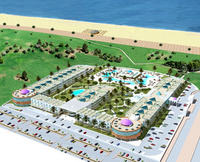 Radisson Hotels & Resorts, part of a leading hotel chain operating over 330 establishments across 53 countries, has selected a brace of Le Jardin de Fleur resorts within the resort of Mediterrania Saïdia for its first foray into the Moroccan market. The newly named Radisson Resort & Spa will encompass Radisson Suites (formerly Sahara Beach Resort & Spa) and Radisson Villa Residences (formerly Villas de la Plage) and ensure that this stretch of Moroccan coastline becomes a world-class tourist destination.
Adam Cornwell, MD of GEM Estates comments, "Both resorts, scheduled for completion in 2010, will receive a significant boost from Radisson's announcement. The presence of a five-star operator will not only make for higher rental rates and occupancy levels and therefore greater yields for clients via the leaseback scheme, but also trigger hikes on the purchase price of these freehold units. Other Le Jardin de Fleur resorts will soon receive the same treatment from international and boutique luxury hotel chains so we're encouraging our clients to get involved as soon as possible in order to save a sum of money and also put themselves in pole position for strong capital appreciation."
Radisson Villa Residences is particularly interesting both on price and location. It would be tricky to find anywhere else offering a five-star standard two bedroom villa of over 200m² built area including a roof terrace for just £186,715 pounds. Definitely not with frontline beach views of 6km of sandy coastline and a 1000-berth marina and three championship standard golf courses on the doorstep. And of course, to conform with the King's touristic laws, the 97 villas will be delivered fully fitted and furnished with access to an array of facilities including two lagoon-style swimming pools and a clubhouse with indoor pool, gymnasium, Spa, tennis court restaurant and bars.
The 384-room Radisson Suites is another strong option. Comprising spacious sea view one and two bedroom apartments, suites and duplexes, each has a fully equipped kitchen and is delivered luxuriously furnished. Set in lush tropical parkland, Radisson Suites has three lagoon-style swimming pools overlooking the beachfront and facilities include a 1,500m² Moroccan-themed Spa & Thalassotherapy centre on two floors, a gymnasium and fitness centre, three restaurants, three bars – two on the rooftop with panoramic views and one poolside, a conference and banqueting centre, beach club and children's club. Prices here start from £82,929 pounds for a one bedroom apartment with up to eight weeks' personal use factored in each year.
As King Mohammed's flagship Plan Azur project, Mediterrania Saïdia has to set high standards and be bustling with tourists all-year round. The model of freehold purchase with optional nine-year leaseback to leading management companies, such as Radisson Hotels & Resorts, goes a long way to achieving this goal. The King can be proud of his achievements and investors can be certain of good returns, gaining a significant rental income on top of an annual capital appreciation currently sitting at around 20 – 25%.
For latest pricing and availability on Radisson Suites and Radisson Villa Residences, including units exclusively available to GEM Estates clients, visit gem-estates.com.
Le Jardin de Fleur
Le Jardin de Fleur is set within Mediterrania Saïdia, one of King Mohammed's six 'Plan Azur' coastal resorts designed to trigger extensive growth of the tourist sector in Morocco bringing tourist arrivals up to 10 million per year by 2010.
The 7 million m² resort of Mediterrania Saïdia is the only 'Plan Azur' resort on the Europe-facing Mediterranean. Occupying 6 km of coastline the resort boasts three 18-hole golf courses, a 1,000-berth marina, several shopping experiences including an undercover modern mall and a more traditional outdoor Moroccan Medina as well as an Olympic size pool, cricket grounds, polo fields, equestrian centre and full sized football pitches.
Le Jardin de Fleur is a collection of 11 of the most luxurious developments within the project ranging from apartments through to townhouses and grandiose villas, all delivered fully furnished and built in a mixture of Moroccan, Andalucian and Roman styles. Each individual resort will have its own clubhouse with different facilities from indoor pools and Spas to cafés and fitness centres and owners will be granted access across the 11. Each Le Jardin de Fleur resort will also provide full on-site rental management where owners can benefit from significant rental incomes via leaseback options.
For more information, visit gem-estates.com.