Marrakech's first family development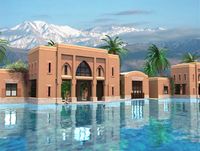 Al Johara – meaning simply 'the Jewel' - is a residential masterpiece from the drawing board of award-winning architect, Elie Mouyal, set on 156 acres of land just 20 minutes from the centre of the Rose City of Marrakech. Whilst unashamedly five star marrying high qualities with extensive facilities and property designs inspired directly from the ancient walled city, Al Johara is also the first resort to cater to family living.
Marrakech has now become synonymous with the well-heeled trendy set looking for chic nightclubs, world-class restaurants, pavement bartering and centuries-old culture within easy reach of northern Europe, but rarely has it been labeled as a 'family-friendly getaway'. Al Johara is eyeing this target audience without compromising on unadulterated luxury.
Adam Cornwell, MD of GEM Estates comments, "Central Marrakech could be a little daunting for those with young children, labyrinths of noisy crowded streets, restaurants serving traditionally Moroccan dishes and no amusement park to speak of, but it doesn't mean that parents should forgo the magic of Marrakech. Al Johara has a mammoth eleven communal swimming pools, the centerpiece with a wave pool and sandy beach, there's an equestrian centre offering treks into the nearby Atlas Mountains, an amphitheatre for live entertainment, open-air cinema, computer games room and a selection of fast food, family and gourmet restaurants to suit each palate. The children can partake in all of these, will certainly enjoy the Moroccan horse and carriage 'taxi' service to their property and the icing on the cake is a crèche and children's club available at all times so the adults can let their hair down."
In fact Al Johara has plenty within its boundaries to amuse that the free air-conditioned shuttle bus service to the city centre is in danger of being underutilized. A 150-room five star hotel combines with a full Spa facility and clubhouse with gym and fitness centre whilst a par three 9-hole golf course with driving range and practice greens will help prepare for a round of 18-holes at one of Marrakech's three fine courses – the Royal Golf Club established in the 1920s, the new Cabell Robinson designed Amelkis or the Robert Trent Jones Palmeraie Golf. The sporting theme continues with tennis, beach volleyball, cycling, boules and a jogging track plus the option to dance the night away in an underground soundproofed nightclub. A business centre, Moroccan Cookery and Art & Craft school plus retail outlets from a supermarket to a banks and a patisserie complete the vision.
Elie Mouyal's properties themselves have exotic sounding names - Riads, Ramparts, Pavilions, Villa Palais and Borjs (possibly the only new-build Borjs in Marrakech, a Borj being a tower property with a walled courtyard garden) – and are almost cookie cut from Marrakech's ancient cityscape. The two and three bedroom Riads arranged around inner courtyards feature vaulted ceilings, rooftop solariums and are built directly alongside the large swimming pools. The Rampart area offers a variety of options from studios to three bedroom duplex townhouses all blending the classical with the contemporary. One, two and three bedroom Borjs all have rooftop solariums whilst the Villa Palais and Pavilions range from one to three bedrooms, have their own gardens and are set on or around the golf course with Atlas mountain views. Some sensational four bedroom Luxury Villas are also on offer each within extensive private grounds. Finally single suite rooms are available in the five star hotel on a freehold basis. Air-conditioning, satellite TV, wireless broadband and 24-hour gated security come as standard.
Pre-release prices average 1,500 euros per square metre (gross living space), undervalued compared to nearby Samanah Country Club at 3,500 euros per square metre. This discount of around 30% guarantees immediate and instant equity, meanwhile the Elie Mouyal stamp is known to add a further 20% in value.
Various payment terms are available to buyers. If paying in full upon contract list prices are discounted by 30% and therefore start from 97,300 euros for a studio Rampart, from 156,730 euros for a two bedroom Pavilion, from 227,500 euros for a two bedroom Riad, from 201,530 euros for a two bedroom Borj and 471,800 euros for a four bedroom Luxury Villa. If paying on a 50%-50% stage payment basis list prices are deducted by 10% with the most affordable studio Rampart priced at 125,100 euros and finally if paying across five stage payments initial list price applies i.e. from 139,000 euros for the most affordable studio Rampart. All prices are inclusive of Moroccan VAT levied at 20% and completion is scheduled for 2013.
For more information, visit gem-estates.com