More hotel operators at Le Jardin de Fleu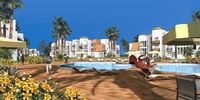 Already making waves as the flagship Plan Azur resort and boasting a proud quintet of influential CNBC-sponsored Arabian Property Awards, Le Jardin de Fleur is now ready to roll-out its who's who of hotel operators. Hot on the heels of Radisson Hotels & Resorts putting their name to two key projects, a five star suite hotel and an all-villa development, Best Western Premier and Hivernage have now signed on the dotted line.
The superior division of Best Western International, the world's largest hotel chain with over 4,000 hotels across 80 countries, Best Western Premier will be rebranding the once-named Sur Mer as 'The Best Western Premier Le Jardin de Fleur' and offer the full backing of its global marketing machine targeting lucrative tourist and corporate markets. The 126 freehold apartments and penthouses with lagoon-style swimming pool, children's club, restaurant and Spa, within striking distance of both championship-standard golf and sweeping Mediterranean coastline, now have certain high occupancy levels and enhanced rental returns, a boon for clients who opt into a minimum nine-year leaseback scheme.
The Bedouin-inspired Villas du Soleil will receive the Midas touch of Marrakech-based five star hotel operator Hivernage and adopt the title 'The Hivernage Resort & Spa Saïdia'. As expected from a member of the elite Great Hotels of the World collection, the 76 villa residences with private pools will become a byword for luxury with Hivernage assuming responsibility for the Moroccan Spa, restaurant and clubhouse complete with indoor swimming pool as well as the day-to-day concierge and housekeeping services.
Andy Welland, Managing Director of Le Jardin de Fleur sales agents GEM Estates comments, "Le Jardin de Fleur has one aim and that is to provide a resort that will make the people of Morocco proud, and the by-product is making investors more-than satisfied with their decision. As part of King Mohammed's goal to attract tourists and boost local employment, each of the 11 Le Jardin de Fleur boutique resorts within Mediterrania Saïdia is bound to be delivered fully fitted and furnished to European standards and maintained immaculately. Owners are entitled to generous annual usage but whilst they're not in residence these powerful hotel operators work hard to bring in year-round rental income. Compound this with healthy double-digit capital appreciation and the exit strategy enabled by freehold status and it really is an investment no-brainer."
Le Jardin de Fleur is a collection of 11 developments ranging from entry-level apartments though to grandiose villas and the flagship 384-room five star Radisson Resort & Spa Suites set within the macro resort of Mediterrania Saïdia. Each will have its own clubhouse with varying facilities from indoor pools and Spas to cafés and fitness centres. To boot, all of Mediterrania Saïdia's offering is on the doorstep – three 18-hole golf courses, a 1,000-berth plus marina, 6km of beachfront with 17 beach clubs, a Moroccan Medina shopping experience and an equestrian centre, to name but a few.
Prices at The Best Western Premier Le Jardin de Fleur start from 2,255,611 MAD (approx 199,967 euros or 157,766 GBP) for a one bedroom penthouse whilst prices at The Hivernage Resort & Spa Saïdia start from 3,838,418 MAD (approx 339,963 euros or 268,474 GBP) for a two bedroom detached villa. Radisson Resort & Spa Suites is priced from 1,270,681 MAD (approx 112,542 euros or 88,764 GBP) for a one bedroom studio.
For more information, visit gem-estates.com