Egypt enters a new era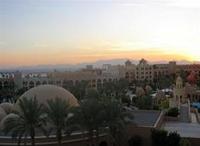 Egypt could be labelled as the oldest tourism destination in the world. The inventor of the package tour, Mr Thomas Cook, was taking parties up and down the Nile from as early as the 1860s and today millions of people every year follow in their footsteps and take themselves and their cameras to marvel at the pyramids and the monuments of ancient Luxor.
However, alongside these amazing man-made structures are the natural wonders of the eastern and western deserts, Sinai and the Red Sea which protects fantastic coral reefs in its warm waters.
The growth of tourism to Egypt has been nothing short of phenomenal. From just one million tourists in 1980, to a record 8.1 million in 2004, a 34% increase over 2003, and the Egyptian Government doesn't plan for it to stop there. By 2010 Egypt targets 9.5 million tourists raising cash receipts of over 10 billion US dollars per annum. The tourism market is now making a distinct shift towards the 'high end' with the Red Sea resorts taking centre stage. Following hot on the heels of the success of Sharm El Sheikh is Hurghada, an up-and-coming resort on the western banks of the Red Sea. Once a simple fishing village, Hurghada now ranks amongst the best Egyptian destinations, with five star accommodation, white beaches and crystal waters teeming with tropical fish and dramatic rockscapes.
Just a few kilometres south of Hurghada lies Sahl Hasheesh, a purpose-built resort flanking 12.5km of sandy beach, of the kind of scale that is difficult to imagine. Covering 32 million square metres, Sahl Hasheesh will, by the time it completes in 2014, have no fewer than 20 hotels (five star minimum) and eight golf courses. Although this area of the Red Sea is very much in its infancy as an emerging market, Sahl Hasheesh will, without doubt, become the most important address of its kind. Spectacular marinas (one of which is Sir Norman Foster designed), authentic Egyptian marketplaces, a cinema complex, a 'sunken city' with ancient ruins specifically for divers, bars, restaurants and first-rate sports facilities barely scratches the surface of the wealth of amenities that will be available to those who purchase property within this mould-breaking resort.
Director of GEM Estates, Adam Cornwell, comments after a recent visit to the site, "Although property is at a pre-launch stage with prices from as little as 39,184 pounds for a one bedroom apartment, the developers already have the vast majority of infrastructure in place and the attention to detail is quite remarkable. Five million euros was spent on the imposing sandstone entrance gates alone, no expense is being spared. As a company we cannot heap enough praise onto Sahl Hasheesh and tip it for investment success for a number of reasons.
Firstly, location, this Middle Eastern country is reached by direct flight from the UK within five hours and is bathed in sunshine all year-round giving a long rental season.
Secondly, the resort encapsulates the two fastest growing sports in the world – diving and golf – with the Red Sea as easily the best spot for diving in the world.
Lastly, although it's too early to cite capital appreciation figures for this fledgling market, prices will rise significantly over the coming years. Already the Sir Norman Foster co-designed resort at the southern tip of Sahl Hasheesh is selling property at ten times the price and developers here have confirmed that their prices will be rising by 7.5% in March 2007. Add our current offer of 10% off any unit reserved over the coming weeks and you already have 17.5% instant equity, regardless of outside market forces."
Sahl Hasheesh offers a range of properties from one bedroom apartments to spacious seven bedroom villas. Prices start from just 39,184 pounds.
Breakdown of Property Available:
Palm Beach Piazza – Luxury one and two bedroom beachfront apartments all with balcony or terrace. Reception with lounge and bar, swimming pool with pool bar and restaurant, fitness centre, hair and beauty salon plus a further 18 retail units including a supermarket and pharmacy. Fully furnished option and elective guaranteed rental arrangement of 5% per annum net for 2.5 years from completion (scheduled for the next few months). Prices from 39,184 pounds for one bedroom.
Ocean Breeze – 40 two, three, four, five and seven bedroom villas, 122 one, two and three bedroom apartments and a 400-room hotel in this resort-within-a-resort. On-site swimming pools (option for private pool with villas), shopping facilities and residents can make use of the health and fitness facilities of the hotel. Fully furnished option. Completion 2008. Apartments priced from 54,220 pounds and villas from 199,990 pounds.
El Andalous – 148 one and two bedroom beachfront apartments with sea, pool or golf views. Two swimming pools with pool bar, medical centre, laundry service, fitness centre and approximately 30 shops to meet daily needs. Adjacent to the pier and 'sunken city'. Completion 2008 - Prices from 45,613 pounds for one bedroom.
For further information, visit gem-estates.com.