Egypt's economic growth paving the way for property investors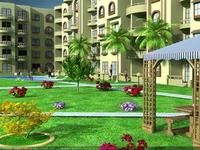 Egypt is undoubtedly best known for its Pyramid's, but its continued economic growth, including significant investment into communications and infrastructure is paving the way for property investors. With the current growth rate nearing 7% the government has instigated a five year plan from 2007 – 2011 targeting GDP which is essential in order for Egypt to maintain and build upon the early successes it has experienced as one of the most popular emerging markets for holiday ownership.
Anthony Fernandes, Director of SPC Overseas says, "Egypt is seen by many as the intellectual and cultural leader in this region. This combined with its strong relationship with the UK, who are actually responsible for the largest non-Arab investment and the UK's continued interest in developing relations and investment with Egypt are sending the right signals to investors. With a proven tourist industry and a rapidly increasing property market, I expect Egypt to dominate this region over the coming years with the biggest benefits going to those that had the foresight to invest at this early stage."
SPC Overseas are now marketing Hurghada Village Apartments in the Hurghada region which is an area totalling some 3km of seafront. This whole area is helping to drive the economy and the tourist industry to higher levels and will upon completion be renowned as the number one tourist destination in Egypt. There will be endless amenities available including deep sea fishing, water sports, golf courses, bars and restaurants.
Hurghada Village Apartments brings to the market spacious high specification studio, one, two and three bedroom properties in a gated community which is ideally placed and not overlooked from any other developments. The development will offer restaurant, café, bar, swimming pool, landscaped gardens, and 24 hour reception area.
Anthony continues, with prices starting from just £15,950, this is a superb investment opportunity that is available to a wide range of people. Capital growth is currently running at 5% to 10% per annum; however this is expected to rise significantly as the region expands and there are superb rental opportunities available, particularly as the capital cost is so low. Studio apartments are currently commanding £100 per week."
SPC Overseas are experts in the overseas property market who offer investors and holiday home buyers alike, an extraordinary personal service in locating the property that will best suit their personal needs.
For more information, visit spc-overseas.com.