Pyramisa Beach Resort - An investment to silence the sceptics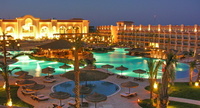 If you've always dreamt of buying a property abroad but have erred on the side of caution and never actually taken the plunge - fear no more. GEM Estates is offering investors the opportunity to purchase their own freehold home as part of the stunning five-star Pyramisa Beach Resort Hotel set within Sahl Hasheesh, Hurghada, Egypt. With prices from just £39,950 and a guaranteed lifetime rental income of 7% per annum (about £2,800), you can't go wrong.
Already open since April 2007 and enjoying occupancy rates in excess of 85%, the Pyramisa Beach Resort comprises studio and one and two bedroom suites set right on the sandy shoreline. Five restaurants, swimming pools, a beach bar and a health & beauty club are on tap for owners and guests and should your head still want to lead your heart, prospective purchasers can 'try before they buy' as the initial 10% payment (£3,995 for a studio) is refundable until private purchase contract.
Samuel Mond, GEM Estates' Egypt expert comments, "Pyramisa Beach Resort is a property investment to silence the sceptics. Worries about off-plan purchase are assuaged as the hotel is a successful going concern and a lifetime of guaranteed rental income at a healthy rate keeps the books balanced. Service charges are an absurdly low £5 per square metre per annum so there are no hidden costs to baulk at. Additionally a 60% mortgage is available for seven years at a fixed rate of 7.5% and, just to sweeten the deal, there is a guaranteed buyback after one year of ownership on all units at initial purchase price. Throw in capital appreciation at rates of around 15-20% per annum and this is a serious investment hotspot."
Pyramisa Hotels is the leading private hotels chain in Egypt and listed on Egyptian stock market. Purchasers within the Sahl Hasheesh hotel have the right to up to eight weeks private use per year, plus for 35 euros per person per day you get unlimited food and drink. There is also the option to exchange part of that usage in any of the Pyramisa resorts. With six to choose from including Cairo, Luxor and Sharm el Sheikh, your investment will never become tedious.
The stunning 32 million m² Red Sea complex of Sahl Hasheesh is fast becoming an exclusive destination for Northern Europeans. Flanking 12.5km of sandy beaches, the resort will have no less than 20 hotels (five-star minimum) and eight golf courses by the time completion comes round in 2014. There will also be a cinema complex, a 'sunken city' with ancient ruins specifically for divers, bars, restaurants, authentic Egyptian marketplaces, a marina and first-rate sport facilities. A Sir Norman Foster co-designed resort at the southern tip of Hurghada is selling property at ten times the price of neighbouring developments showing the high expectations for the Red Sea resort.
In total there are 550 premium units within the gated Pyramisa Beach Resort, all offering great scope for investment. Each looks out over the hotel pools, gardens and boasts frontline sea views. Prices start from £39,950 for a studio, £87,890 for a one-bedroom suite, and from £219,600 for a two- bedroom suite. The service charge for these properties is a stunningly low £5 per square metre per annum, and there are four payment structures offered to purchasers – this is one bull that you can confidently grab by the horns.
For further information, visit gem-estates.com.