Rocketing tourism and investment in Egypt's key resorts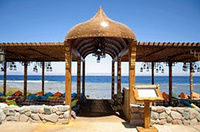 A growing economy, investor incentives and superb holiday property at low prices makes Egypt a tempting market for many a shrewd investor. The Red Sea Coast offers a promising real estate market still in its infancy which is expected to spur on tourism, in line with government targets.
As demand for investment property in emerging markets continues to soar despite negative press on the Credit Crunch, many of today's overseas investors are not phased. They are faced with an overwhelming choice of product but, with a little insight, it is not hard to see why property in Egypt has won itself a rightful place in eye of the hungry investor….
Egypt's economy has taken off in the last few years, mainly due to new government initiatives and a clear insight into the benefits of foreign investment. Legislation passed in 2004 now makes it possible for non-Egyptians to own, sell and let property freely. An annual GDP growth of 7% the ongoing consolidation of the banking sector and a reduction and simplification of both taxes and Customs tariffs, are all going a long way to improve the prospects for Egypt as a promising investment location.
Attracting over 9 million tourists each year and with figures rising, Egypt enjoys year- round sunshine, warm turquoise waters heavily populated by marine life, and plenty of historical sites. Red Sea resorts are now receiving more visitors than the more traditional destinations of Luxor and Aswan. According to Amani El Torgoman, Director of Tourism Operations at Travco, the country's leading travel agency, "In the past it used to be older people who go on Nile cruises to see antiquities, now it's younger families who come for a beach holiday and may just take a day to see Luxor". This is great news for investors, who saw increases of their coastal property stocks reach 101% in 2007.
Positive and influential players, such as Zoheir Garana, Egypt's Tourism Minister who has spent most of his career in the private sector, states, "Our objective is to reach 14m tourists in 2011". Likewise, Mr.Garana aims to introduce product to attract high spenders and promote the country's strength as a luxury destination that offers excellent golf, beaches, yachting, diving and shopping, amongst many other attractions.
Key to Egypt's tourism expansion plans is the planning of large integrated resorts on its coastline, all offering luxury accommodation and residential property as well as marinas, spa and golf resorts. These creations are not simply ideas in the pipeline; they are now becoming a reality. A fine resort model exists on the magnificent shores of the Red Sea, where the likes of the popular Pyramisa Beach Resort in Sahl Hasheesh are now under construction. Pyramisa is a development to keep in mind, as 7% gross rental returns, freehold units and a developer "buy-back" scheme make it appealing even to the most conservative of investors. "It is secure from an investment point of view as it has all the 'guaranteed' income" says Mark Wilson, portfolio advisor at the International Property Investment Network (IPIN), an internet platform for property investors. With high capital appreciation and a 10 year building warranty, the resort looks set to provide a solid investment, great returns as well as incredible holidays to all who use it.
Such prime locations in Egypt offer a a strong second home resale market, particularly in the resort areas, as most overseas buyers are now seeking holiday or second home locations as lifestyle choices. In addition and in tandem with increased economic success, the purchasing power of the domestic market in Egypt is on the rise, offering fantastic long term profitability.
Outstanding cooperation from public and government institutions has undoubtedly created a unique and developing tourist market. Beautiful resorts, low prices and a racing economy make Egypt a highly lucrative country in which to invest; so much so that many wise investors are seizing a timely opportunity to enjoy their holidays and make some money.
For further information, visit propertyshowrooms.com.