Invest in Egypt – five star luxury for the price of a family car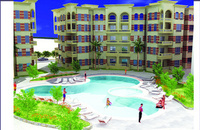 With interest-free payment terms from as low as a £499 a month over just two years, investors can own a freehold property in the five-star tropical paradise of West Side Village in the Egyptian resort of Hurghada for the price of a family car. This is a fantastic opportunity for first-time buyers to get on the property ladder for under £20,000 and laugh all the way to the bank with a predicted profit of over £10,000 upon completion in 2010, and £40,000 after just five years, not to mention the superb rental potential. Now that's what you call 'full of Eastern promise'...
West Side Village is a luxury gated community in the heart of vibrant Hurghada offering 24-hour security, on-site management, parking and situated a mere 250 metres from the sea. Boasting some of most beautiful crystal-clear waters in the world, the Red Sea is justifiably famous amongst the international diving community as the place to be with around 1,500 species of marine life and it is also the cheapest place in the world to obtain a PADI licence. The resort is built on a large plot of 44,000m² with a vast array of amenities surrounded by lush tropical gardens. These include restaurants, cafés, bars, a private health & beauty Spa, three communal swimming pools, a five-star hotel club and private beach access.
Samuel Mond of GEM Estates comments, "This project really is a gift for anyone interested in low-priced property investment. The developer of West Side Village is a well-known local company and is in talks with major UK tour operators to maximise the revenue generated from rentals. Facility-wise this development is unrivalled in Hurghada and is in effect not an apartment development but its own self contained resort with all the facilities that you would expect in a five-star hotel. West Side Village will be one of the most sought-after investments over the coming years and the town's most exclusive residential address for the international community."
West Side Village offers 686 properties to suit every pocket and taste with prices ranging from £19,964 for a studio apartment to £60,000 for a three-bedroom apartment or penthouse suite – these come with an extra roof terrace with panoramic views, ideal for star-gazers. Each beautifully designed apartment will have its own terrace and will be finished to the highest standard with ceramic and marble flooring throughout. Owners will be offered a choice of tiling in the modern fitted kitchens and bathrooms. Bedrooms come with fitted wardrobes and all digital services will be pre-installed. A range of contemporary furniture packages are available for all apartments.
Each purchase comes with an easy payment plan with an initial 40% outlay (that's around £8,000 on a studio apartment). The remaining 60% is to be paid off in monthly, interest-free instalments over 24 months (£499 a month for a studio), at the end of which the property is completely yours. Add to that the benefit of no capital gains or inheritance tax, the promise of good rental returns and substantial capital appreciation, and these properties really could be worth their weight in gold.
Based on a cumulative 25% capital growth per annum
For further information, visit gem-estates.com.