Egypt - Crunch free zone?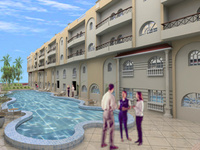 Even the Martians must have heard the crunch coming from planet Earth, so loud are the announcements being hurled at us almost daily.
So where does one put one's hard earned money in these perilous times?
Well even a Martian can work out that Egypt is about as good as it gets when it comes to property investments. Why?
Well many investors won't need to take credit or a loan to buy their Egyptian property. The reason? Simple. Prices in Egypt are still LESS than a deposit on your average BTL property in the UK. On a £150,000 property a typical buy-to-let mortgage is 85% loan to value so you have to stump up a 15% deposit. That is £22,500.
In Hurghada studios at the British built Pyramids 2 resort start at £16,300.The most expensive studio is £21,000 ...ahem do I hear a Crunch? The only crunch in Hurghada will be the happy property owners sandals hitting the beautiful sandy beaches just minutes from the 7,000 sq m landscaped gardens that adorn the Pyramids 2 property. For those who want to splash out more, say six figures ...well you can't! The most expensive property in the development is £54,500. Half a run down terrace house in the UK crunch zone. In Egypt it gets you a 115 sq m three bedroom Penthouse just 250m from the sea.
With property prices growing at well over 20% per annum now is definitely the time to head for Egypt the eye of the proverbial hurricane in this instance.
Tahir Ali MD of Egypt Revealed who specialise in assisting UK and Irish clients to source quality Egyptian property maintains things are still on the up and up for Egypt.
"We are very much in a period of rapid growth for the Egyptian market. This is being fuelled by massive increases in tourist numbers and now Easyjet is making the Red Sea Riviera more accessible as budget airlines now fly direct to Hurghada. These holidaymakers will need accommodation. So the logical consequence will be that the rental market will now become firmly established in the area." says Ali.
For more information, visit egypt-revealed.com.