Egypt property boom - no mirage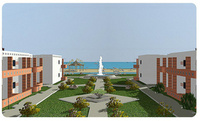 Egypt has long been pictured as a land of vast deserts and the resting place of mighty monarchs. In the past weary travellers through the barren wildernesses of the Sahara have imagined oases, date palms and other refreshing delicacies - all for it to come to naught , the imaginings of a fevered mind.
A traveller to the Red sea coast today may end up rubbing his eyes in disbelief too.
Beachfront property for less than the price of a quality car? Seeing is believing as they say and their is more than just cut price property.
Plans are afoot for the first retail mall in Hurghada- gone will be the days of trekking along the promenade looking for hours for the perfect cossy or shorts.
Metro, Egypt's largest food retailer, is currently operating 20 outlets in Cairo,
Alexandria and Ismailia and it has now expanded into Hurghada.. Carrefour, the French retail giant are set to follow suit.
All these movers and shakers in the retail world are in Hurghada to take advantage of the growth in the numbers of people visiting and /or relocating to the area…and the smart property investors are in there too.
A prime example of property that gets the mouth watering is the Oasis Marina, a truly beachfront development with studios starting at around £20,000. 2 bedroom "villa" apartments are at less than £50,000. How is this possible one may ask? Mainly through an innovative payment option whereby purchasers need only pay for 60% of the cost
over the course of the build, with the remaining 40% being paid for through a five year, 8%guaranteed rental opportunity.
With both residential property and now the big guns of the retail industry coming in the property boom in Egypt's Red Sea Riviera is a full blown reality. No mirage here it seems.
For more information, visit egypt-revealed.com.