Eco "matters" - When you buy abroad take your dedication with you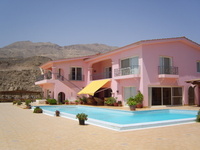 If you are keen to preserve the planet for generations to come and are careful in the UK of how you live your life, then do not forget that if you are buying a home abroad, you need to ensure that you buy a property that has a good eco rating. This helps encourage developers, world wide, to accept the changing mood of the populace across the globe.
This is why some brand new homes in Egypt may be perfect for you.
La Siesta has just, once again, been awarded in the "Best Destination in Egypt" category for Premier Location.
La Siesta is a gated development on the Red Sea. The houses are a spectacular deep pink and blend into this remote area flanked by high mountains and azure clear blue waters. Just 90 minutes drive South of Cairo, there are villas and apartments plus boutique hotel, restaurants, cafes and a myriad of sports facilities including diving in the coral sea.
So how eco friendly is La Siesta?
Local materials are sourced and used in all construction work. Much of the construction materials are stones from the mountains which ring the resort. The walls as a result blend into the mountain side. Local labour is used too. The company is very concerned about the workers and not only provides housing, which reduces travel, but there are shower facilities and three meals a day.
For home owners and visitors an airport shuttle is provided. There are bicycles on site and buggies are being introduced to reduce carbon emissions. Even the on site workers are provided with bicycles and carriers.
Construction waste is recycled as there is a grinding machine that takes tiles bricks and construction items and reduces them to a fine powder which can be re-used.
La Siesta has its own nursery where vegetables and salad items are grown.
A recycling programme is in implementation stage. Currently all rubbish collected is separated and recycled. For home owners new recycling scheme is being introduced for food, paper, plastics and household waste.
La Siesta's management company is also negotiating a solar energy system for production of heating, lighting and electrical use. This is due to commence by the end of 2008. Initially it will provide power for all external lighting. After successful introduction it will then provide power to individual homes.
As there is so little rainfall in this part of the country rainwater is not harvested but pathways and roadways are permeable, all toilets have reduced flush mechanism and at present they are reviewing a small pilot scheme for the re-use of household waste water i.e. washing machine water for toilet flushing.
La Siesta lives by its name; a sleepy, quiet enclave away from noisy discos and late night revellers. This is a place for the discerning. It offers a commune of like minded people; those who appreciate the beauty of the area, the many ancient ruins that can be visited, the joy of knowing your neighbours and enjoying convivial meals in the restaurants, cafes and bars dotted around the resort. There are various courses arranged and a tremendous choice of activities many around the clear waters of Red Sea coast, from scuba diving and snorkelling to fishing and sailing. For the energetic there is tennis, volley ball and mountain climbing!
Much loved by writers, painters and artists it has an ambience of a close knit community. It is perfect as a home or buy to let, as it has an all year season.
This is an on-going development with properties to buy and rent. There are even opportunities to start a small cottage style business here.
For more information, visit lasiestaegypt.com.