A novel way to "diy" in Egypt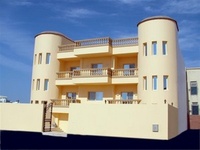 A British developer has created a wonderfully attractive niche property market for those investors/holiday home seekers looking for something a little bit special.
In the booming Egyptian resort town of Hurghada the Vanquish Villa apartments are set to slay the competition with the emphasis on client choice. If you can't physically oversee a DIY project overseas then here's the next best thing.
Choose an apartment in a small, exclusive development of only twelve units. Then you specify the layout of the kitchen /bedrooms. Need any extras such as a Jacuzzi on the rooftop ? No problem the finest quality at a competitive price will be sourced for you.
The quality of finishing is exceptional being done by a master builder with over twenty years experience in the UK.
Being an exclusive concept the developments are always finished before the start of the next development.
Owners at Vanquish Villa apartments will have full and free access to the building facilities which are for private residents only, 24 hour security, shuttle service to beaches and excursions. Free advertising and rental marketing on the developers website affords another unique opportunity to maximise returns on your investment.
The basement has a Pool area and gym while the roof terrace is fitted with a hot tub spa where owners can unwind with fabulous views of the mountains and the coastline All this and just 10 minutes from Hurghada International airport . On site management (including airport pickup of guests) and an onsite tour operator complete this unique opportunity.
The management are awaiting delivery of a smart mini bus which will be available 24hrs. The development also has it's very own dive boat which is free for sun worshipers and divers pay only a minimal charge
In summary
Basement level, pool area, Jacuzzi, children's splash pool, gymnasium, showers and music / entertainment /bar area
With access to 2 base level studios approx 36m2 from £22k
1st floor,
2 x 60m2 1 bed apartments from £58k
2 x 45m2 1 bed apartments from £48k
1 x 36m2 studio from £22k
2nd floor,
2 x 70m2 1 bed apartment from £58K private roof terrace available via spiral staircase from living space
2 x 90m2 2 bed apartment from 68K private roof terrace available via spiral staircase from living space
1 x 36m2 studio from £22k
Start date September 08 completion by September 09
For more information, visit egypt-revealed.com.