Live like a Pharoah at Golden Park Residence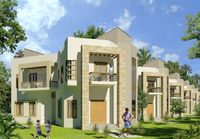 Midway between Hurghada and Sahl Hasheesh sits a resort that pushes the definition of 'all-inclusive' to the limit. From the outstanding such as a diving centre and marina, to the outlandish such as a dancing fountain with light show and cable car transport throughout – Golden 5 City is grandiose, gigantic and thanks to endless sun, certainly golden. And now, the brains behind the success story are building the adjacent Golden Park Residence, priced from just £32,436 for a studio apartment.
Samuel Mond, GEM Estates' Egypt expert comments, "Golden 5 City is a truly coveted address, a highly successful established resort, and the newly-released Golden Park Residence is going to be a winner by default. Incorporating apartments, townhouses, villas and sumptuous five or six bedroom detached palaces, Golden Park Residence targets a five star audience at entry level prices with the added bonus of being able to indulge in all the facilities of adjacent Golden 5 City. Build density is restricted to 20% ensuring plenty of lush green open space and a rental guarantee of a mammoth 8% is offered on a five year renewable basis. This is the golden ticket to investment success."
With Golden 5 City next door offering its floodlit tennis courts, basketball courts, volleyball courts, health centre, a scuba snorkeling and windsurf centre, boat excursions, 150 shops, 750 metre private beach… the masterplan for Golden Park Residences could have been justified to exclude on-site amenities, however this has not been the case. Purchasers within the development will not have to leave its confines in order to access a private fitness centre with Spa, aquapark, kid's clubs, tennis and volleyball courts as well as internet access and satellite television. This all adds up to a perfect scenario for holidays and also for investment.
Modern architecture reaches across the portfolio with spacious apartments a maximum of three storeys high, the deluxe versions with the largest terraces and views over the Red Sea, similarly for the townhouses. The villas offer a home-from-home environment, detached with generous living space, whilst the palaces are unique in the area with a mammoth 618m² in floorspace for six bedrooms. Furniture is included in the price, a must-have for purchasing in an unfamiliar environment.
The developers are able to set a minimum 8% rental guarantee based on the success of Golden 5 City where occupancy is consistently in excess of 85%. A five star formula, market know-how, year-on-year increased tourist arrivals and a near-perfect climate provide the ingredients for Golden Park Residences' bright future. To boot, finance is available at 60% LTV for a five to 15 year term.
Prices start from £32,436 GBP for a studio apartment of 40m², two bedroom townhouses from £141,325 GBP, two bedroom villas from £228,492 GBP and for the ultimate in luxury, and returns, five bedroom palaces from £456,084 GBP. A choice of payment structures is available, 10%-30%-60% or £1,000 GBP reservation followed by 30%-15%-15%-15%-25% the latter entitling a £1,000 GBP discount off the final payment. Completion is scheduled for November 2010.
For more information, visit gem-estates.com