Buying in Egypt – It's no pyramid scheme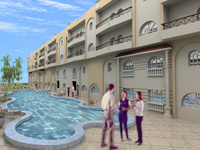 According to Steve Worboys, MD of property investment experts Experience International: "the loose definition of an 'emerging market' in property terms is a real estate market that has yet to be tried and tested, where there is an element of risk hopefully offset by positive fundamentals for the potential of growth in terms of demand for property and the underlying value of land and real estate." This possibly makes Egypt one of the most promising emerging markets in the world then!
In Egypt the emerging property market is being built on the tourism industry, the risk comes in the form of the nation's once unstable economic past, the positive fundamentals for growth are centred on tourism, accessibility and the increase in interest in Egypt as a second home location, and so far, everything is stacking up in Egypt's favour, but can this attractive situation last?
Taking the element of risk as the starting point for the analysis of whether Egypt will remain a positive property investment location, there has been a strong upsurge in the nation's exports of oil and gas, revenues from the Suez Canal are soaring, and growth in the tourism industry is booming.
This all adds up to one thing, a sustainably strengthening economy according to the International Monetary Fund, that has stated that "the Egyptian economy will continue to grow at 7-8 percent" making it one of the fastest growing in the Middle Eastern Region. In terms of the property market in Egypt as it stands today, according to the nation's Prime Minister investment activity is up 40% that has helped increase foreign direct investment into the nation to over USD 10 billion.
Looking at the positive fundamentals required to ensure Egypt remains on track as a highly successful property investment location, one only has to look as far as the tourism industry. It's a fact that the country is seeking to diversify its economy through tourism and real estate – with increased tourism comes demand for short-term rentals which fuels a fly-to-let property investment culture. Also with increased tourism comes a growing awareness of the fact that Egypt is one of the shortest haul destinations for Britons and mainland Europeans who want year round sun, making Egypt an increasingly attractive choice for second homes and retirement properties.
But is all this just theory? Not according to a report from the United Nations World Tourism Organisation (WTO) that indicates that Egyptian tourism figures for 2007 rose by 20%. According to the World Travel & Tourism Council (WTTC) tourism is now on target for up to a 7% annual increase over the next decade, the Tourism Minister has a plan in place to attract 14 million visitors by 2011, and a new initiative targeting Asia, Europe and North America is expected to ensure a doubling of tourists by 2015. Enabling this increase in arrivals in the fact that Egypt's airports are now open to low cost carriers with Jet2holidays being the latest to announce cheap flights from the UK's Leeds Bradford International Airport to Sharm el Sheikh for example.
But does Egypt have lasting appeal and will it experience repeat visits, or is it a one-visit wonder? Well, the nation's currency is cheaper in relation to the pound than the euro which has resulted in Cheapflights.co.uk recording a 50% increase in flight searches for the resort of Sharm El Sheikh this year compared to last for example. Then there's the fact that Egypt is blessed with an exceptional climate, unrivalled history and culture, stunning beaches and increasingly attractive resorts into which millions of pounds worth of public and private investment is being ploughed for the enhancement of amenities for visitors and the improvement of facilities for residents. It seems more than likely that Egypt therefore has lasting appeal!
As is abundantly clear then, the fundamentals are in place for the annual 25% capital growth being enjoyed in certain parts of Egypt as well as rental yields in double figures to last as Egypt continues to develop and emerge as such a hot overseas property prospect. One of the latest property developments proving highly popular and attractive with both home seekers and investment purchasers is the Pyramids 2 resort in Hurghada.
Comprising studio, 1, 2 and 3 bedroom apartments, this development - which is located close to an international airport and a PGA professional golf course - has the best array of onsite amenities such as tropical gardens and swimming pools, it is located just steps away from the Red Sea and from pristine beaches, and with prices starting at just £15,000 is it any wonder that interest is so intense and the development is selling out so fast?
For more information, visit experience-international.com