Cape Verde's foremost luxury resort developer hands over first townhouses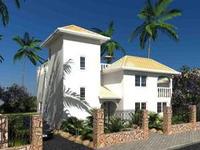 Cape Verde's largest luxury resort development, Sambala, becomes the first developer to complete the Phase One of properties. Sambala continues to lead the way on Cape Verde's most beautiful island, Santiago.
- The Sambala resort, a multiphase development is set to become the first resort to hand-over properties to investors from March 2007.
- A comprehensive documentary style film on Santiago Island and Sambala Resort is now complete and available for viewing online. sambaladevelopments.com
Sambala, recently commissioned a film on the whole resort development and island, shot by former BBC producer/ director, Hamish Beeston. The film can now be viewed on the Sambala website which provides a comprehensive insight into this stunning island and the spirit of the Creole islanders, resort and people involved in the project.
There is also an in-depth look at the resort construction and properties themselves alongside interviews with both the Construction Director and Chairman.
The 15 minute film is the first broadcast standard film on Cape Verde undertaken by a developer which unlocks the secrets of Santiago, one of the most stunning of all the islands in the archipelago. The film can be viewed at sambaladevelopments.com/film
The resort is unique in its situation within 20 Square kilometres of privately owned land including 8 kilometres of virgin coastline with the islands largest white coral sand beach, San Francisco Bay. It is this location and aspect that makes the Sambala Resort the foremost and most exciting development on the island.
Sambala Developments still remains by far the largest luxury resort development in Cape Verde on the tropical island of Santiago and continues to lead the way as the most established developer in the country in terms of construction progress. The first tranche of properties within the resort are being handed over in only three months time from March 2007.
Sambala launched the project in December 2004 at the IOD in London and has progressed at a staggering rate since. Much of the resort's infrastructure including desalination plant, irrigation system and road network is complete. Many apartment blocks and townhouses are also complete and the resort is taking shape after much anticipation.
Construction began in July of 2005 making it the most advanced high-end resort development in terms of construction progress anywhere in the archipelago by a huge margin. There simply is no other development that is moving forward as fast.
The first Phase of 450 freehold townhouses and apartments in Sambala Village sold out within months of release. All villas in Phase 2 have now completely sold out. The villas and townhouses of Vivendas de Santiago (Phase 2) and Sambala Village all have superb views from the magnificent escarpment over the bay of San Francisco, the white sand beach and dramatic ribeira valley, all privately owned by Sambala.
Sambala and the Environment
The development has adopted a rigid environmental approach since inception, ensuring that we protect the local ecosystem by using fewer natural resources in the build and developing ways to recycle water and generate clean energy. We are continuously exploring new alternative power supplies and initiatives that will reduce our carbon footprint in this stunning natural paradise. These include wind powered renewable energy, solar, bio-diesel, sea water greenhouses, recycling almost all waste water and much more. Sambala is also setting aside a large portion of their land parcel as a nature reserve to help allow turtles to nest along the vast stretches of pristine coastline.
Social Fabric
In addition to this, we are committed to ensuring that the Cape Verdeans benefit equally from our presence through funding many local projects including providing a complete IT network and assisting with many of the schools in the district of Sao Francisco with new buses and equipment etc.
Sambala Village sold out within the first few months of launch and the following phase continues to be the fastest selling luxury resort in the Cape Verde's. Townhouses now being sold in Phase 2 known as Vivendas de Santiago overlook the one kilometre white sand beach of San Francisco and the rugged mountainous interior of the island.
Show Homes
Visitors to the Sambala resort can now view fully furnished and completed townhouses or apartments within Sambala Village which are ready for handover in just a few months.
New guaranteed rental scheme now in place.
Sambala will also be the first developer to make investors money work for them by offering a fixed and reliable income for their properties. This will guarantee investors 5% of their purchase price for a minimum of 5 years. Sambala will in addition to this, incur the cost of housekeeping, all maintenance fees as well as marketing and administration.
With all villas in Phase 2 now having sold, Sambala is now offering 2 and 3 bedroom townhouses with superb ocean, mountain and valley views. Sambala will soon be announcing the launch of phase three, Fogo Villas.
For further information, visit sambaladevelopments.com