Els and Faldo put Cape Verde on the world golfing map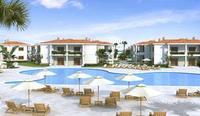 Cape Verde, an archipelago of ten islands and eight islets in the Atlantic Ocean some 400 miles west of the African nation of Sénegal, is known for many things. Known for its stunning white beaches where the turtles come to lay their eggs, for its kite surfing and windsurfing, for its climate that is suspended in perpetual summer and for its warm turquoise waters. However, something that Cape Verde is not known for is golf – yet – but there are massive plans afoot to change this.
There is a golf course of sorts on the island of Sal but it has fallen into decline, there is also an 18-hole course on the island of Sao Vicente, but it won't be hosting any Championships just yet as it consists mainly of baked mud. Cape Verde is going to address this golfing weakness and is not going to do it by halves. In fact the Islands are inviting in the big guns - three times Major winner Ernie Els and six times Major winner Nick Faldo – to design not one or two, but five new golf resorts as part of a £1.75 billion project to establish the region as a new world golf destination.
Thanks to its international airport, magnificent white sand beaches, and status as the most cosmopolitan of the islands, Sal is the logical host for two of the new courses, both Ernie Els-designed 18-hole championship standard courses. Integrated into Calheta Bay on the island of Sal, the courses will also be joined by an aquapark, marina capable of accommodating superyachts and a trendy all-white Nikki Beach – known globally as 'The Sexiest Party on Earth'.
Carley Todd, GEM Estates' Cape Verde expert, comments, "Cape Verde has all-year-round holiday appeal and since it has been 'discovered' by the global tourist, has come on in leaps and bounds in the popularity stakes. In 2004 about only a thousand Brits visited the Cape Verde Islands, but now accessibility has been improved, especially with the direct five and a half hour flights from the UK, tourist arrivals are growing at a rate of 22% per annum according to the latest official statistics. It is projected that Cape Verde will reach one million tourists annually by 2015, from just 83,259 in the year 2000, and golf will play a pivotal role in this success story. Even though the number of hotel beds in Cape Verde is increasing year-on-year, tour operators Airtours and First Choice say that they are 400 beds per week short based on current demand. This is excellent news for private property investors hoping to rent out their homes to holidaymakers."
Tortuga Beach Resort and Spa on the island of Sal, just a Tiger Wood's drive from the new Ernie Els course, is exactly the kind of development that is certain to attract the tourists. Set on a prime frontline beach plot, the resort comprises two bedroom apartments as well as three or four bedroom individual villas with private pools, but the real appeal lies in the fact that it will be run as an aparthotel. Tortuga Beach Resort and Spa will be built to European four-star hotel standards and have an expansive range of facilities from gymnasium, saunas, steam room and a selection of communal pools, to a variety of bars and restaurants. The aparthotel services will encompass 24-hour reception and concierge, housekeeping, as well as full property management service to handle lettings throughout the year. Tortuga Beach Resort and Spa is within a short distance of the Island's capital, Santa Maria, which has restaurants, shops and buzzes with nightlife. Santa Maria is also home to the Island's international airport currently with direct flights to both London Gatwick and Manchester.
Prices at Tortuga Beach Resort and Spa start from 140,950 euros for a two bedroom apartment, 314,950 euros for a three bedroom villa and 598,950 euros for a frontline beach four bedroom villa. No less than six payment schedules are available to choose from, some of which reward with discounts, free legal services and quality furniture packs. Completion is expected for 2009.
For further information, visit gem-estates.com.