New approach to buying in Cape Verde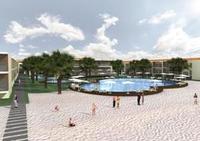 A choice of easy-to-buy schemes linked to a new apart-hotel in Cape Verde puts the opportunity to buy a property in the sun within the financial grasp of more potential investors and second-home buyers than many other developments taking shape on the islands rapidly gaining popularity 450 miles off West Africa.
That is the view of Louise James, managing director of TOPA - The Overseas Property Agency - which this month announced details of the new beachfront apartments it is selling off-plan in a prime location on the island of Sal.
Located between two four-star hotels on Sal's popular 8 km long Santa Maria beach, just 25 minutes by road from the island's international airport, the Salinas Resort will comprise a choice of leaseback apartments with a guaranteed rental return and others which are available for outright purchase at prices starting at €68,500.
The Salinas Resort is being built in two areas - SalinaSea and SalinaSand.
SalinaSea - the apart-hotel - will be built around landscaped gardens with sunbathing terraces, communal pools and a central restaurant and bar.
Eight of the frontline apartments will open on to the beach; others will have views to the beach and sea.
More than 180 apartments are available in SalinaSea, ranging in size from 36 sq m for a studio to 83 sq m for a one-bedroom apartment. Both have been designed so that they can be linked to create a self-contained two-bedroom two-bathroom hotel suite.
Adjoining SalinaSea, the three-storey SalinaSand phase of the development will comprise more than 300 apartments built around an 'oasis' of gardens featuring palm trees and pools, some of which will lap the boardwalk terraces of waterfront properties.
A spa, shops, bars and restaurants as well as a gymnasium and a children's club are included in the plans.
Prices of the properties in both phases depend on size and location.
Because they form part of the apart-hotel, those in SalinaSea are available only on a ten-year leaseback basis. Prices start at €81,400 rising to €232,400 and the properties come with a guaranteed five per cent rental return for each of the first three years.
No deductions in respect of maintenance and repairs will be made by the Lisbon-based Oasis Atlantico Group of Hotels which will manage the apart-hotel.
During the remaining period of the ten-year term owners will receive a share of 60 per cent of the net profit generated by lettings of the entire apart-hotel. The individual share will be based on the size of the owner's property.
"We have been advised that during this period, based on current predictions, investors will see an annual return of around 7.5 to 8 per cent," says Louise.
Under the leaseback scheme owners will be entitled to occupy their properties for up to four weeks each year - two high season (generally around Christmas and Easter) and two low season (winter, spring and autumn, excluding the Christmas and Easter periods). A nominal charge in respect of maid and laundry services will be made by the hotel when they stay. Typically this will be €10 per day for a studio and €15 per day for a one-bedroom apartment.
During their stay owners will be entitled to a 10 per cent discount on food and drink in the resort and a 20 per cent discount on the cost of some services available within the resort and locally. They include the spa, diving club, car hire and internet access.
Owners will not be obliged to stay in their properties on Sal every year. If they wish to do so, they will be able to exchange all or part of their four weeks entitlement for the same amount of time in one of the Oasis Atlantico Group's other four hotels in Cape Verde or one of its three hotels in Brazil, including the new five-star hotel it opened recently in Fortaleza.
If owners wish to occupy their own or another Oasis Atlantico Group property for more than four weeks during the year they will be able to do so at a discounted rate of up to 40 per cent, depending on the time of year.
At the end of ten years owners will be able to renew their leaseback agreement for a further period of ten years.
The prices of SalinaSand apartments currently range from €71,545 to €270,701. Purchasers can choose whether to make an outright purchase or to buy under the leaseback scheme, thus generating a guaranteed income while expanding the capacity of the apart-hotel.
A variety of easy-payment schemes have been introduced for purchasers who buy off-plan. They range from five equal payments during the period between reservation and completion to a one-off full payment at the contract stage, earning the purchaser a cash-back bonus of 4.5 per cent of the purchase price.
Alternatively a discount of 3 per cent is available to purchasers who pay 80 per cent of the purchase price at the contract stage and the balance on completion. Those who opt to pay half the price on signing the contract and the rest on completion earn a discount of 1.5 per cent.
The price of the furnishing package will be 5 per cent of the property price. Owners can choose to pay this at the contract stage or forego the first year's leaseback income to keep their initial outlay to a minimum.
The developer is obliged to provide furnishings in a style and quality which conform to the standards required by the Oasis Atlantico Group.
"Our aim is to make buying as affordable and easy as possible," says Louise. "As part of that plan, we can introduce purchasers to a London-based lawyer with power of attorney to act for the developer's notary in Cape Verde, so the legal formalities can be completed in the UK without the need to travel to the archipelago."
Construction work on both phases of the development will start this summer and they are due to be ready for occupation in the summer of 2009. All properties come with a ten-year structural guarantee.
For more information about the Salinas Resort, as well as other properties available in Cape Verde archipelago, visit topa.co.uk.