Cape Verde's rooms with views - Boa Vista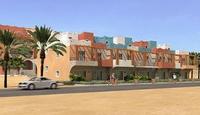 When the Portuguese sailors discovered the third largest Cape Verdean island in 1460 they shouted "boavista" (or good view) over the side of the ship and that's how it got its name.
Today its overpowering beauty is attracting the attention of many more than the Portuguese. The Italians have been holidaying in the Cape Verdean islands for years and now the British are following in the footsteps of Christopher Columbus, Francis Drake and Charles Darwin and discovering the unspoiled splendor of the islands for themselves.
Boa Vista is thought by many to become the next hotspot in the Republic with a brand new international airport opening up the island to visitors. Direct flights to the main international airport on the island of Sal have been operating for some months now with frequent inter-island shuttle services connecting the smaller isles however weekly flights from London Gatwick directly to Boa Vista are due to start on 10th July 2007. Flying time is around 5 ½ hours and tickets are available through Aestreus Airlines for around £377 return.
Adrian Lillywhite, Managing Director of Cape Verde Property Ltd, comments, "In my opinion Boa Vista will be the next island to develop after Sal as it has 60% of all of Cape Verde's beaches and will shortly have direct flights from the UK greatly increasing accessibility. The RUI chain of hotels is moving into Boa Vista, due for completion in about a year, which will encourage greater tourism from Europe. It is an undeveloped island at the moment but with massive potential."
The most easterly of the Cape Verdean islands, Boa Vista boasts over 55km of pure white beaches and crystal clear waters, including the archipelago's longest beach at 18km. The island is also a nesting ground for loggerhead turtles and a feeding ground for humpback whales and dolphins. The capital, Sal Rei, is the main tourist centre with restaurants, bars, shops and local amenities all on hand. The island also offers a range of water sports including diving, deep sea fishing, wind and kite surfing.
The 10 islands and 8 islets comprising Cape Verde lie in the subtropical zone with average temperatures ranging from 24°C (75°F) in January and February to 29°C (85°F) in September making it a year round holiday destination.
Unlike some of the neighbouring islands there are still some amazing beach-fronted properties available on Boa Vista at reasonable prices.
Cape Verde Property Ltd, the first UK agent to specilialize in Cape Verde, is marketing several resorts on the island. Sabi Sands is a development of studio, one, two and three bedroom townhouses and two, three and four bedroom luxury villas, located only 300m from the beach in Rochinha. The UK award winning developers are also offering 5% guaranteed rentals to all purchasers. Prices start from £62,430 / €91,828.
Por do Sol 2, the second phase of this fabulous frontline development on Cabral Beach, has just been released offering 23 one and two bed apartments plus 8 townhouses with wonderful sea views, fabulous 130m/sq roof terraces and fully fitted kitchens. This development benefits from a gated entrance, two swimming pools, sun terraces and a pool bar. This is a rare opportunity to secure a top quality property on a superb small, frontline development with prices starting from £66,096 / €97,404.
Also on Cabral Beach is the third development, Creola Sands. The 278 beachfront apartments and penthouses many with far-reaching panoramic sea views are proving attractive for investors and second home owners alike. Studios, one, two and three bedroom apartments are available from just £57,105 / €84,000 with some having exceptionally large terraces overlooking the Atlantic Ocean.
Adrian comments, "Purchasing a property off-plan in Boa Vista is a great investment. As tourist numbers continue to rise (on average 28% in the last 5 years, 280,000 foreign visitors in 2006) so too has the demand for high quality beachfront accommodation. Now is the time to invest is this magical island before the secret gets out."
For further information, visit capeverdeproperty.co.uk.