The Republic of Cape Verde celebrates 32 years of independence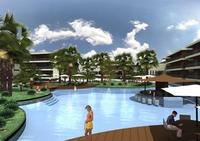 On the 5th July 2007, the Republic of Cape Verde will celebrate 32 years of independence. The uninhabited islands 400 miles west of Senegal, West Africa, were discovered and colonized by the Portuguese in the 15th century, 500 years later the Republic gained independence in 1975. As the Cape Verdeans celebrate their national holiday, Adrian Lillywhite, MD of Cape Verde Property Ltd, the first UK agent operating in the market, looks at how this archipelago is fast becoming a 21st century nation.
Cape Verde's economy is primarily service based due to its lack of natural resources and tourism has come to play a key role. Since 1991, the government has pursued market-oriented economic policies, including an open welcome to foreign investors and a far-reaching privatization program. From 1994 to 2000 there was a total of about $407 million in foreign investments made or planned, of which 58% were in tourism (US Department of State). Retaining economic relations with its past colonial rulers, Portugal, has meant that Cape Verde has enjoyed strong growth since the 1990s linking its currency with the Portuguese escudo and the euro in 1999. The annual GDP growth rate is around 7% and the Minister of the Economy, Growth and Competitiveness has announced that Cape Verde intends to join the World Trade Organisation (WTO) in 2008.
In tandem with economic growth, Cape Verde has been undergoing vast modernisation and development of its infrastructure including new roads, ports and airports. Minister of Infrastructures, Transportation and the Sea, Manuel Inocêncio Sousa, commented "This (economic) growth is being induced by tourism, by real estate and hotel investments, by the rapid increase in the flow of tourists to Cape Verde and by related activities. We need to respond to this growth with the same rhythm of development and modernization in the country's entire infrastructure." US$ 450 million is to be spent on modernising ports with the aim of making Cape Verde a platform in the Atlantic for air and sea transportation.
Already Cape Verde is a popular stop for Atlantic cruise liners and provides much needed tourism revenue for the surrounding areas. The number of cruise ships stopping in Cape Verde is expected to increase from 20 - 30 in 2006 to 60 or 70 in 2007, over a 100% increase according to the President of the Leewards Islands Chamber of Commerce, Industry and Services, Orlando Mascarenhas. This coupled with the regular direct flights from the UK (Gatwick and Manchester) to the main island of Sal and the expected direct flight from Gatwick to the island of Boa Vista will result in ever increasing visitor numbers.
According to the Cape Verdean National Statistics Institute (INE) Cape Verde's hotels welcomed 233,000 tourists in 2006, 26.4% more than 2005 and this figure is set to rise again in 2007. The Cape Verdean government is acutely aware of the pivotal role which tourism plays in the Republic's future and with that in mind a Tourism Master Plan is being formulated which will include a Development Agenda and a Strategic Action Plan for Tourism.
Adrian Lillywhite comments, "The tourist appeal of Cape Verde is far reaching. The islands have become popular with not only the Portuguese and Italians but the British, Irish and increasingly the Asian population. China for example has named Cape Verde as an approved tourist destination which will no doubt raise the Republic's profile globally."
As tourism has grown so too has the demand for real estate on the untouched islands. 2006 saw capital growth rates of between 15 and 20% on Sal, the island of primary development and this rate is predicted to be maintained over the next couple of years. Property prices are very much dependent on location with the more easily accessible islands and beachfront sites demanding higher premiums. Adrian comments, "The property market consists primarily of off-plan and new build properties with prices to suit every budget. 1 bedroom apartments in Santa Maria town on Sal for example average at €50,000 rising to €249,000 for a frontline 1 bedroom apartment and €600,000 for a frontline 4 bedroom villa in a popular resort area."
In addition to capital growth, rental yields of up to 15% per annum in some areas are a strong attraction for investors. "A 2 bedroom apartment in a quality development will fetch €800 euros per week inclusive of water and electivity and some developments are offering 5% rental guarantees," comments Adrian.
It is worth noting also that the Cape Verdean diaspora (the vast majority of which live in Portugal and the eastern USA) are increasingly buying property back in their motherland. Impressed by the rapid improvement in the infrastructure, resource provision and economic stability, many are purchasing second homes and properties for their retirement. The Cape Verdean government is supporting this activity by the Instituto das Comunidades (IC) preparing a guide for emigrant Cape Verdeans to help explain the process of purchasing land or a home.
The 5th July will not only be a celebration of independence but of achievement by Cape Verde and its people. In 1975 there were many questions marks over the new Republic however it seems that hard work and a progressive, inclusive attitude have put Cape Verde in good stead to be a real success story for Africa in the 21st century.
For more information about buying property in Cape Verde, visit capeverdeproperty.co.uk.