Cape Verde vs. The Maldives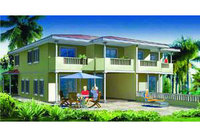 If you were given the choice of travelling to one of two beautiful exotic destinations, one is 13 hours away and the other only 5 ½ hours travel, which would you choose?
Destinations such as the Maldives are being disregarded more and more by people choosing to visit the similar but much closer paradise haven of the Cape Verde islands. But don't take our word for it, the Cape Verde an National Statistics Institute (INE) states that Cape Verde's hotels welcomed 26.4% more tourists in 2006 than during 2005.
Even though Cape Verde only has ten islands, compared to the Maldives' 1,190, its total area covers over 13 times the area. And whereas there is little chance for buying in the Maldives, Cape Verde and its government are positively bending over backwards to encourage foreign buyers.
And it's not just the travelling time that suits travellers from the UK to Cape Verde; the time difference is just one hour, whereas there's a five hour difference in the Maldives. Not great for those who suffer from jet lag!
Another benefit of these African islands for buyers is that they don't suffer the annual monsoon rainfall which makes the Maldives a no-go zone for almost six months of the year. In fact in one year the Maldives experiences almost 2,000mm of rain, whereas Cape Verde has a mere 68.4mm. This means that tourists will be attracted to the islands year round and thus owners will be able to get almost constant occupancy of their property.
Many travellers to the Maldives go for the diving and this is becoming one of the most popular activities in Cape Verde also. Massive rock formations, caves, canyons, ledges and shipwrecks are home to a host of large fish, shoals of fish and lobsters, making exciting dives. But it's not just the underwater wildlife that attracts visitors to the islands, Cape Verde also boasts a number of endemic birds and reptiles unique to the area, including the Cape Verde Warbler and the Cape Verde Giant Gecko.
Property owners in Cape Verde are likely to attract much more than just the divers and honeymooners that the Maldives seems to cater for. Specialist Cape Verde tour companies cater to any number of special interest groups, including bird watching, history, music, trekking, mountain biking, astronomy and botany to name but a few. Several championship golf courses are planned and the sandy beaches and clear waters also offer perfect conditions for sailing, surfing, wind and kite surfing, and fishing.
Purchasing your piece of paradise does not come with a huge price tag either; the average property price for a frontline four bed villa in a Cape Verdean resort area is £403,495 / €600,000. The average for a two bed apartment is about £94,149 / €140,000 (or £174,820 / €260,000 for frontline). The cheapest one beds are £33,619 / €50,000 (or £167,452 / €249,000 for frontline). Three bed villas start from about £201,750 / €300,000.
Two new developments on the island of Sal available through Jet2Let are definitely worth investigating:
Murdeira Beach Resort is a frontline development nestled on the beautiful and sheltered west coast bay of Murdeira.
The development comprises one and two bedroom, high quality apartments, terraced and detached luxury villas featuring Spanish-Colonial architecture and incorporating a 75 berth marina.
The villas and apartments offer panoramic views of the ocean and marina. Facilities include tennis courts, swimming pools, sun lounge areas, a commercial space, a boat house with a diving centre and a variety of bars and restaurants.
The resort is situated about a five minute drive from Santa Maria and there will be at least three golf courses nearby.
Two bedroom apartments start from £94,149 / €140,000
Three bedroom semi-detached villas start from £167,452 / €249,000
Five bedroom semi-detached villas start from £390,065 / €580,000
Paradise Beach is an outstanding luxury beachfront resort, beautifully positioned on 28 hectares of south-west coastline, within fifteen minutes walk of the tourist town of Santa Maria.
The development is centred around a five star Nikki Beach hotel and comprises of exclusive beachfront detached villas with private swimming pools, deluxe beachfront semi-detached villas, three-bed semi-detached villas, two-bed apartments and three-bed duplex penthouses. The development will be interspersed with 12 swimming pools through the residential areas, as well as offering a supermarket, pharmacy, diving school, wind and kite surfing facilities, beach club, two tennis courts, laundry services and 24 hour security.
All units will have large balconies so those which do not face the sea can catch the sun with the backdrop of an extensive landscaping, including walkways and gardens of tropical plants. Air conditioning and en-suite bathrooms come as standard. This striking development will rate amongst the best in Cape Verde. The Paradise Beach Phase 1 development is expected to be completed in May 2009, with the final development expected to be completed in 2010.
Two bedroom apartments are priced from £94,149 / €140,000
Three bedroom duplex penthouse with sea views start at £151,321 / €225,000
Three bedroom semi-detached villas are priced from £151,321 / €225,000
Sal has direct flights from both Gatwick and Manchester. The island has several excellent hotels, bars and restaurants mainly located to the south of the island near Santa Maria and several golf courses are planned over the next few years which will boost further the appeal of this island.
Last year saw a 15% to 20% capital growth in Sal and prices are expected to continue to rise as tourism grows at about the same rate over the next few years. As far as income from rental is concerned, a two bed apartment in a good development will fetch circa £538 / €800 euros a week. Developers are offering a guaranteed rental of 5%, with some managing to get as high as 15% already.
Lance Nelson, Managing Director of Jet2Let when asked what was so special about Cape Verde said: "Cape Verde is set to become increasingly popular owing to the start and future expansion of many direct flights and an open skies policy. The property under construction is low density and built to a high standard. This all points the Cape Verde islands becoming a top destination for property investment and will deliver excellent capital growth and strong rental income for owners. Our new developments offer excellent value for money if you are looking to invest in this up and coming area."
When it comes to politics on the islands, both the Maldives and Cape Verde are republics, gaining their independence from Britain (1965) and Portugal (1975) respectively. However, whereas Cape Verde has a stable political climate and has very low crime rates, the Maldives is undergoing a period of political reform and is currently not recommended by The Property Investor Magazine for foreign property investment.
Overall, if you were to weigh up the benefits of Cape Verde versus the Maldives, the wise investor would opt for the former rather than the latter.
For more information visit jet2letproperty.com.