Why have silk when you can have cotton?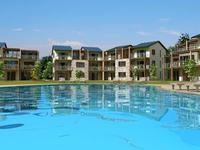 Cotton Bay that is; the new 5 star golf and marina property development on the ever-popular and exotic island of Sal in the Cape Verde islands. It is one of the first developments to combine second and investment home opportunities with outstanding amenities and all with a thought for environmental and eco building solutions.
The Cape Verde archipelago, situated to the West of Africa, has a hot climate and naturally arid landscape, which give it its all-year-round holiday appeal with pure white sandy beaches. It also means that special consideration has to be given to the local environment to ensure this idyllic setting is maintained. Tourism is a key factor in the development of the essential amenities with foreign investment aiding the governmental plans. It is excellent news then, that the tourism sector is reportedly growing steadily, according to the Cape Verdean National Statistics Institute (INE), who states that Cape Verde's hotels welcomed 233,000 tourists in 2006, 26.4 per cent more than during 2005.
"We are competing for the European [tourist] market with Brazil, the Canary Islands and Senegal," says João Pereira Silva, Minster of Economy. Cape Verde does have plenty of advantages over other destinations, "We have a very rich culture thanks to a mix of African and European origins as well as the best climate in the world. And we are the land of Morabeza", continues João Pereira Silva. This Creole word is the essence of a traveler's experience in Cape Verde. Its literal meaning is 'gentle people', but holds a much richer significance that portrays hospitality in the sense of the 'to welcome people, to treat them well, to show appreciation for their coming to our home'. The Minister of Economy adds, "The extent of Morabeza is evident in all parts of Cape Verdean Life."*
The Cotton Bay development oozes Morabeza as well as keeping a view on its eco responsibilities. It will host the largest botanical garden on the island: a huge park of over two million square metres, rich in plants and flowers as well as a nursery on site to cultivate indigenous plant species. This 'Green Zone' will be a significant feature of the development and importantly salt water, pumped from extensive salt water lakes, will be used in all water features throughout to minimise use of drinking water.
Interspersed in the lush vegetation will be numerous sports and recreational areas of the highest quality including a professional standard 36 hole golf course which will meander through the development, creating a key feature for home owners. Several golf projects have already been outlined in Cape Verde with plans to make it a world golfing destination. Combining the sports with well being and the Cape Verdean culture helps create a welcoming and relaxing environment.
Sal is one of the most popular islands of Cape Verde, with the most developed tourist infrastructure, it is also becoming one of the world's top locations for wind and kite surfers as well as being an excellent destination for diving and sun worshipping. Its popularity is helped by its international airport receiving weekly direct flights from the UK (Gatwick and Manchester) with Astraeus Airlines; and with flight times of only 5 ½ hours your overseas hideaway, is not that far away!
For those with sturdy sea legs, Sal is the perfect destination for the sailing and yachting fraternities. Cape Verde is in fact already a popular cruise ship destination, and now the new marina at the Cotton Bay resort will open up Sal for the private boat and yachtsman. The exclusive shore area at the development will be specially created alongside the 300 berth marina, exuding the traditional colonial architecture of the islands and it will be a hive of activity for property owners with bars and restaurants overlooking the clear waters. As food and drink in Cape Verde are cheap, a small beer will cost you about 70p, you can sit back and relax, taking the guilt out of your holiday pleasures.
With the Cotton Bay apartments starting at only £84,242 / €124,000 your overseas property investment need not break the bank either. Of course, for those looking for that extra-special property, large marina and beach view villas are available for up to £1.12 million / €1.65 million.
Cotton Bay appeals to all with its traditional architecture blended into the Cape Verdean scernery in an ecologically and environmentally sustainable way. It has five star amenities and facilities coupled with high quality property specifications and of course the outstanding views. With Cape Verde's tourism sector steadily increasing and a strong economic performance, it is the place to invest in your overseas getaway.
For more information about the Cotton Bay Golf and Marina Resort and a taste of Cape Verdean Morabeza visit capeverdeproperty.co.uk.