What are you looking for in a holiday home investment?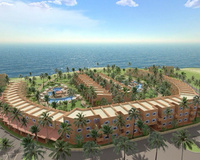 The number of UK residents buying abroad has increased tremendously in recent years and according to the Department for Communities and Local Government, the number buying abroad in 2006 was 211,000.
So what are people looking for when buying a second home abroad?
Easy Access
Good weather
Unspoilt beaches
Opportunity for capital growth
Good rental returns
Amenities
Value for money purchase
If these are what you are looking for in your search for a holiday home or investment then you should consider Cape Verde, an archipelago of around 10 tropical islands, 450 kilometres off the West coast of Africa and on the same latitude as the Caribbean.
"Cape Verde enjoys a stable democratic system", says Darren Mitchell, Director of Cape V, a UK based company specialising in these islands. "The Government is pursuing a market orientated economic policy with a welcome to foreign investors and a far reaching privatisation programme. The country is well aware of the advantages of growth in the tourist industry which it is promoting with vigour. This in turn leads to visitors wanting a home here"
Cape Verde therefore has everything on most peoples' "wish list".
Certainly there is easy access with a flight time of around just 5 hours and no problems with jet lag. The islands have year round sunny weather with a temperature averaging 25 degrees.
Beaches are spectacular; miles of unspoilt, soft white sand drifting into clear seas.
Capital growth is expected to be good. 15% in 2007 expecting min 25% this year. "Whilst there are no real records to show a rising value, with the amount of change taking place on the islands and the interest from major hotel chains, property prices should start to rise significantly in the next few years", adds Darren.
Rentals will prove a successful enterprise as there should be no void periods as the islands offer year round summer weather.
Hotels have been fully booked in NOV, JAN and FEB with the largest travel agent, Thompson, expanding operations everywhere and struggling to meet demand.
Value for money is increasingly appealing to purchasers and drawing them to Cape Verde. For as little as 115,000 euros/£85,868 you can purchase an apartment in a brand new, five star development called Pedra De Lume. Located on the island of Sal this is to be the rejuvenation of a small village to create supreme 21st century living with bars, restaurants, shops, local markets, promenade and beach walks.
Approximately five minutes from the nearest town and with beautiful white sandy beaches, prices are expected to at least double in the next three to four years.
Also to be built are duplexes, golf villas, luxury villas with pools and a frontline tower.
At Villa Verde, Canna one, two and three bedroom brand new apartments are available from 128,890 euros/£96,238 This excellent development is just 200metres from the beach.
If you are looking for sophistication then Nikki Beach is the ultimate beach club concept that brings dining, fashion and music together in a world of beauty and elegance. The Nikki Beach complex at Paradise Beach in Sal is on 28 hectares of coastline within walking distance of the tourist town of Santa Maria. When completed it will compries 22 exclusive 4* beachfront detached villas with private swimming pools, 12 deluxe beachfront semi detached villas, 188, three bedroom semi detached villas, 202, two bedroom apartments and 97, three bedroom duplex penthouses. In addition, there will be 12 swimming pools, two tennis courts, a diving school and four star hotel with bars, restaurants, conference centre, health and beauty facilities and café. All units will have large balconies and enjoy extensive landscaping in newly created tropical gardens. Located just 10 minutes from Sal International airport.
Prices:- From just 120,000 euros/£89,600 for two bedroom apartments
Top of the range front line superior detached villas with private pool 600,000 euros/£448,021.
For further information, visit capev.co.uk.