Exploring the extraordinary economic emergence of Cape Verde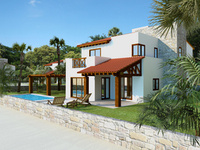 Cape Verde, an archipelago of ten islands off the coast of Senegal enjoying a year round fabulous climate and boasting some incredibly stunning scenery, was a location lesser known until just four short years ago.
In the past four years the islands of Sal, Boa Vista and Santiago in particular have become known as idyllic holiday destinations and perfect second home locations – so much so that Cape Verde's expatriate population is now greater than its local population, and the islands' economy has come to benefit substantially from both tourism and construction & real estate.
However, to generalise that Cape Verde has really only come into its own economically speaking in the last four years is absolutely incorrect - for it was four years ago that the United Nations first identified that Cape Verde had aligned itself for transition from 'Lower Income Country' to 'Middle Income Country' ranking, and the World Bank began structuring its support programmes for growth and competitiveness.
In 2004 when the UN initially identified that Cape Verde was ready for transition to 'Middle Income Country' status, it followed a period of twenty years economic and political development and advancement in the Republic. However, once the UN deems a nation ready for status transition, a further three to four years close scrutiny follows to ensure that there is consistency and sustainability in the improvements already made economically speaking.
Cape Verde therefore made the final transition from 'Lower Income Country to 'Middle Income Country' on the 1st of January 2008 after proving itself to be a nation with a developing economy working relentlessly to improve and advance.
So, if you thought Cape Verde was just another emerging location being targeted by cheap flight providers, package tour operators and developers of low grade real estate, it's time to think again!
This may well have been the picture painted of the archipelago in the past, but as Cape Verde has shown, it has ambitions and plans to become one of the most economically stable nations in Africa, to make the most of its incredible natural attributes, and to develop ethical, high end and sustainable tourism and property industries.
And what an incredibly wealthy base of potential the islands have had to build upon. Not only is the climate in Cape Verde stunning all year round, the islands are encircled with pristine, white sandy beaches and tropical vegetation, the waters that lap the shores of the islands are crystal clear and home to coral reefs and hundreds of species of exotic fish, activities available for holidaymakers and residents range from a whole array of water sports to outdoor pursuits on the rocky volcanic climbs of the islands' mountainous areas, and all islands are steeped in the rich colour and history of their exotic African and Portuguese past.
When direct flights became a reality to Cape Verde from the UK, Ireland and European mainland – just last year in many cases – there was an almost overnight lift of 20% in property prices in the Republic in 2007 according to a recent article in the Daily Telegraph, with the same article predicting the same percentage growth in Cape Verde's real estate economy possible for 2008. And now because the islands are not only easily and swiftly accessible from the UK and Europe, but because they are affordably accessible as well, there has been an intensification of property developer focus on the archipelago.
With tourism arrivals soaring, with the World Bank having approved projects amounting to USD 255.9 million as of September 2007, and with the attractive property market receiving sustained international interest, sagacious developers are aware that there is significant room for high end development of luxury real estate in Cape Verde.
According to Steve Worboys, MD of Experience International, "2008 is going to be a very exciting year for Cape Verde. Not only has the archipelago achieved the enviable 'Middle Income Country' ranking from the UN and not only is it in receipt of significant loans and funding from the World Bank for growth and competitiveness programmes, the government's ambitions to raise the standards in terms of tourism and real estate projects are finally coming to fruition with some stunning property projects coming to the market."
There's no denying that Cape Verde is steering a course towards continued economic advancement and improvement. And there's also no denying that the type of property projects now coming to the market are appealing to a very discerning public – and yet, on the whole, the vast majority of real estate is still within financial reach of many of us because prices began from a low starting point, and despite 20% growth last year, there is still substantially more room for expansion as Cape Verde continues to develop and improve.
Take the new Dunas Beach Resort as just one example of a property project that embodies all that is new and exciting in the real estate industry in Cape Verde.
Created on an enviable frontline beach position on the island of Sal and within walking distance of Santa Maria, the development offers residents everything from direct and private beach access to their very own frontline golf course, from spas to swimming pools and from shops, bars and restaurants to a gym. Properties on the development are 1, 2 and 3 bedroom apartments and 3 bedroom detached villas with private pools - all are available with frontline views of either the beach or golf course. Prices start from GBP 68,000 / EUR 97,950.
A favourable alternative to this exceptionally luxurious development is Tortuga Beach Resort & Spa, also on the island of Sal. This development is incredibly ambitious and it really raises the standard of residential real estate across the archipelago. Comprising of beautiful beach side apartments and villas with stunning views and exceptional facilities, Tortuga Beach Resort & Spa is likely to become one of the most talked about developments on Sal in 2008.
All properties are surrounded by tropical landscaping, swimming pools and public garden areas, and residents will have access to the very best amenities such as the five star luxury spa, a choice of bars and restaurants, a 24 hour attentive concierge service, a gym – and of course, all homes are just steps away from the pristine beach and the clear waters of the ocean. Prices for properties at Tortuga Beach Resort & Spa start from GBP 96,487 / EUR 127,813.
For more information about the properties at Dunas Beach Resort and Tortuga Beach Resort & Spa, visit experience-international.com.