Rosa Del Mar – Inspiring Cape Verde's future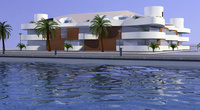 With organic fluid curves and wide expanses of glass, the loft-style apartments of Rosa del Mar herald a new era for Cape Verde. The once near-unknown archipelago suspended in perpetual summer has transformed into a renowned tourist hotspot and the marina community of Porto Murdeira, home to Rosa del Mar, is set to be the jet-set paradise of the 21st century.
Porto Murdeira, set near mid-way between Sal's International Airport and the Island's cultural capital of Santa Maria at 10km and 8km respectively, is a government-backed gated resort to rival the best marina communities in southern Europe. Three four- and five- star hotels dip their toes into warm turquoise waters whilst bars, restaurants, shops and residential accommodation skirt the 200-berth marina capable of accommodating the largest of motoryachts, up to 100 metres, as well as the water taxis which deliver passengers from island to island.
Brian Langmaid, MD of Investments Worldwide, promoting Rosa del Mar comments, "Architecturally striking, Rosa del Mar's avant-garde looks alongside the abundance of resort facilities are instantly appealing to lifestyle purchasers, but the real interest is coming from investors. Currently priced at 1,800 to 2,000 euros per square metre, that is to say from 94,000 euros for a 55 square metre one bedroom unit, these properties are under market value even by Cape Verde's affordable standards. Comparable to the likes of Puerto Banús or Mallorca's Puerto Portals, Porto Murdeira has the Islands' only licensed casino, only legalized marina and top chains are already expressing an interest in managing the resort's hotels. With capital appreciation hovering at 20 – 25% per annum this is literally a paradise for investors."
Porto Murdeira's own 18-hole golf course complete with driving range and soon to be announced big name signature is complemented by the adjacent Ernie Els-designed course and elite Nikki Beach – the ultimate beach club concept set on pristine white sands. Staying within the resort, residents and their guests can also practice paddle tennis and basketball followed by a refreshing drink in the clubhouse. By night the marina will come alive thronging with stylish eateries serving up the day's catch and watering holes, all against a backdrop of millions of euros-worth of yachts moored at anchor.
The one bedroom apartments and two and three bedroom American-style duplexes at Rosa del Mar occupy a prime beach- and marina- front location with Porto Murdeira. The architects, Diseño Earle, are champions of modern design and have a fine pedigree ranging from the Museum of Contemporary Art and Planning in Schenzhen, China, to the Venetian Resort Hotel & Casino in Las Vegas. With a curvilinear form inspired by the Cape Verdean landscape, Rosa del Mar homes have fully equipped kitchens including appliances, high quality sanitary ware, floors tiled in local stone and wood and insulated sunscreen glazing whilst hot and cold air conditioning, TV and telephone points come as standard.
Prices from 94,000 euros for a one bedroom apartment, 172,000 euros for a two bedroom duplex. Participate for as little as 28,000 euros representing first 30% payment. Completion scheduled for December 2010, stage payments are held in escrow and a penalty system is in place should the developer delay with delivery.
Up to 85% LTV mortgages are available, including a period of interest only, subject to normal status and conditions.
For further information, visit investmentsworldwide.co.uk.