Looking for an intelligent investment?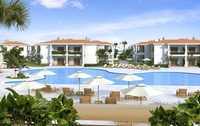 Buyers looking for a holiday retreat or a property for income and as part of a portfolio with opportunities for capital growth and rental return, all, to a degree, need certain 'plus' factors which makes the investment worthwhile.
If you have not considered Cape Verde then maybe now is the time to do so.
Features that make Cape Verde suitable for capital investment –
It offers the closest tropical islands to the UK
All year round good weather
Only 5.5 hours flight time from UK with no jet lag. Direct flights from UK
Fabulous unspoilt beaches
Experts predict increase in property values of up to 70% over next 2 years
Very strong public and private investment
Huge tourist growth with major hotel chains now offering holidays from the UK
Possibility of inclusion in EU
Exchange rate value of local currency is fixed to the euro.
Multi party stable democracy, supportive of foreign direct investment.
Plus
Excellent property prices
Early stage of development making it ideal time to invest
Beach apartments from £40,500/54,000 euros.
"As a company specialising in Cape Verde we are the UK sole selling agents for a number of prestigious new developments" says Darren Mitchell, Director of Cape V. "With a Government supporting private enterprise and with tour operators seeing the benefits of year round sunshine so close to UK shores, the 10 main islands which form Cape Verde, will rapidly grow in popularity and stature and in order to capitalise, one needs to look seriously at investing now whilst prices offer such exceptional value for money".
Tortuga Beach Resort and Spa is a beautiful resort with excellent capital growth potential. Situated on a stunning beachfront location on the island of Sal, this amazing development offers a wide variety of high specification villas and apartments on one of the few remaining undeveloped white sandy beaches in the world.
Tortuga offers owners use of luxury four star hotel with 150 seat restaurant, elegant wine bar and piano bar, courtesy lounge areas, luxury spa and gym, 24 hours reception and concierge and spectacular landscaped gardens. In addition there are two communal pool areas and a variety of shops.
All villas have private pools and gardens and all apartment include terraced areas.
Concluded Darren, "Tortuga Beach is for the discerning and with so many facilities provided by the hotel, owners benefit from the best of both worlds".
Prices currently start from £104,000/€137,95 euros approx for a two bedroom apartment.
Villas start from £264,000/€349,950..euros approx
Owners can expect a rental return of around €600euros approx per week for a 2 bed apartment and around €1,000 euros approx per week for a villa. With all year round good weather there should be no void periods.
Prices on Cape Verde, through CapeV start from as little as £40,500/€54,000 euros for a 1 bed apartment.
For further information, visit capev.co.uk.