Cape Verde goes green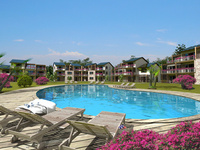 Strange as it may seem for an archipelago of sandy islands submerged in constant sunshine off the coast of Africa, Cape Verde – as its name suggests – is going green. Cotton Bay Marina & Golf Resort on the island of Sal is a self-proclaimed 'eco-compatible project', the first on the island, and promises environmental empathy and awareness alongside five-star luxury and strong financial returns.
Prime Minister of Cape Verde, José Maria Pereira Neves, was recently quoted as saying, "Modernization will not be to our detriment. We are working hard to ensure that we retain the unspoiled beauty of our islands by allowing only sustainable development" and Cotton Bay Marina & Golf Resort is certainly echoing his sentiment. The 417 hectare resort will devote two million square metres to the largest botanical garden on the island rich in plants and flowers, and an on-site nursery will nurture indigenous species ready for use within the resort. Additionally salt water will be used in all water features such as the various lakes, streams and waterfalls which wind through the resort adorning the residential areas and golf courses of which there are two, 36-holes in total.
The apartments and villas within Cotton Bay Marina & Golf Resort are constructed mainly of wood and glass creating an open and organic feel with a real sense of light and space. On-site residents can enjoy first-class sports and leisure facilities including a sheltered marina capable of accommodating 300 vessels of up to 20 metres in length. This marina will form the focal point of the resort where you can find a veritable Aladdin's cave of superb amenities including a casino, bars, restaurants and shops with colonial style frontages. Cotton Bay Marina & Golf Resort will also benefit from a luxury Spa, two football pitches, eight tennis courts, a sports centre, water park, children's play areas, plenty of swimming pools including an Olympic sized one and private pools for villa purchasers – and of course the 36-holes of golf. Several hotels complete the picture, one of them of five-star rating.
Cotton Bay Marina & Golf Resort offers various types of accommodation to suit all tastes and budgets; from frontline beach villas with up to five bedrooms, through to one-bedroom apartments priced from 126,000 euros. All have fully fitted kitchens, top-spec bathrooms and fully installed air-conditioning plus three furniture packages are available at additional charge. The developer is also pledging full on-site property management and maintenance resulting in the potential for 12 months profitability due to the year-round sunshine. Add on capital appreciation predicted to be 20% per annum at the very minimum for the next few years and a location just 15km from the International Airport, and this exciting eco-friendly paradise could have your friends themselves turning green with envy…
Prices from 126,000 euros for a one-bedroom apartment and 594,000 euros for a villa. Payment terms are spread out in manageable stage payments up until completion scheduled for 2010. Finance is available.
For further information, visit gem-estates.com.