First Hilton resort in African Archipelago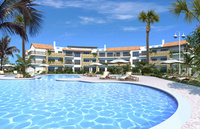 It has been reported recently in A Semana, Cape Verde's newspaper, that the beautiful island of Sal has been chosen as the first Hilton resort in the African archipelago. The 5* Hilton resort is due to open in 2010.
"This is superb news", says Darren Mitchell, Director of Cape V, specialists in the Cape Verde region. "These beautiful and largely undeveloped islands are like the Caribbean islands 20 years ago. They offer unspoilt beaches, clear seas, friendly people and a layback approach to life in a climate of warm, sunny weather.
As with the Caribbean, there needs to be a balance between being virtually uninhabited and open for tourism. The arrival of the Hilton Group gives much kudos to the island, helps the Government build a better infrastructure and enables home owners to benefit from the many changes that will result.
Buying a home now, in the relatively early days allows home owners to choose superb locations at prices that are extremely competitive. Consider what they will be worth in 10 years time."
With the port at Cape Verde being a regular "port of call" for cruise ships, increased flights from the UK and the country's keenness to build relationships with the EU, the future is exceedingly bright for this cluster of islands off the West Coast of Africa
Currently available on Sal island –
Dunas Beach Resort.
Prices start from just £70,500
20 minutes transfer time from International Airport
This is a premium development of high specification villas in a breathtaking beachfront location on the beautiful white sands. Perfectly position to capitalise on the fast rising popularity of this superb location.
Excellent investment opportunities for rental or resale buyers as well as those looking for a second home.
Tortuga Beach Resort and Spa
Prices from £104,000 for a two bedroom apartment and £264,000 for a villa.
Offers excellent capital growth potential.
There is a wide variety of high specification villas and apartments on one of the few remaining undeveloped white sandy beaches in the world.
Owners benefit from the use of luxury four star hotel with 150 seat restaurants, elegant wine bar and piano bar, courtesy lounge areas, luxury spa and gym, 24 hours reception and concierge and spectacular landscaped gardens. Two communal pools and a variety of shops.
Each villa has a private pool and gardens and each apartment includes a terraced area.
For further information, visit capev.co.uk.